Big Marine Animals Expedition in the Sea of Cortez
17th May 2017

| Mario Passoni
Photo Credit: Christian Vizl
Join Dr. Rubin aboard the Quino El Guardian for a real exploration diving trip in the Sea of Cortez. Go looking for oceanic manta rays, dolphins, whales, sea lions and whale sharks!
You'll be delighted by the marvellous Sea of Cortez while enjoying a unique dive cruise. Moreover, manta ray expert Dr. Rubin will introduce you to the fantastic world of these gentle giants and the other massive creatures that inhabit this paradise.
Diviac Eco Travel has selected this trip for you in order to concretely help the marine life of the Sea of Cortez.
---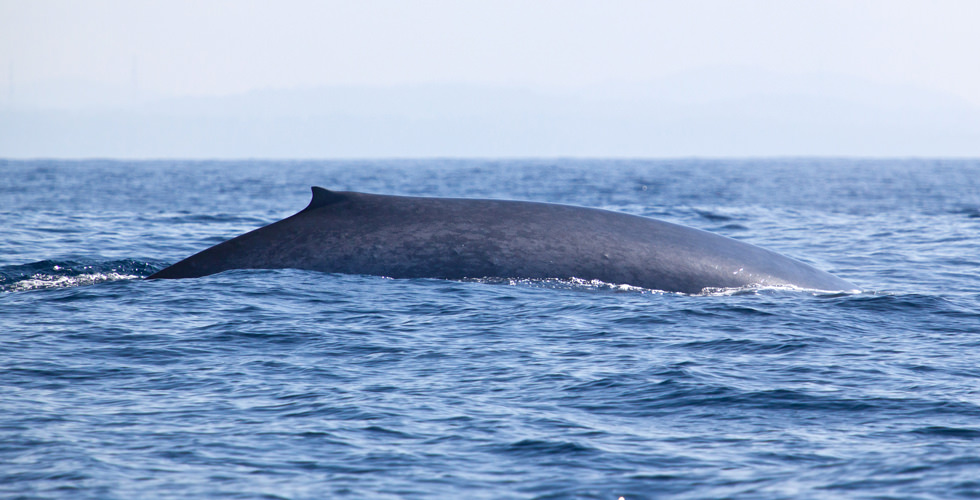 Essential Information
Where: Baja California, Sea Of Cortez (Mexico)
When: New dates are coming soon
Who: Dr. Rubin
Trip Duration: 8 days
Liveaboard: Quino El Guardian
Research Activities: Survey on Oceanic Manta Rays and marine megafauna; Photo-identification and tissue sample collection for Oceanic Manta Rays; Whale watching; Collection of plankton and inspection under a microscope
Target Group: Divers, Students and Families
Max Number of Guests: 16
Price: USD $2,300 per person, quad occupancy
---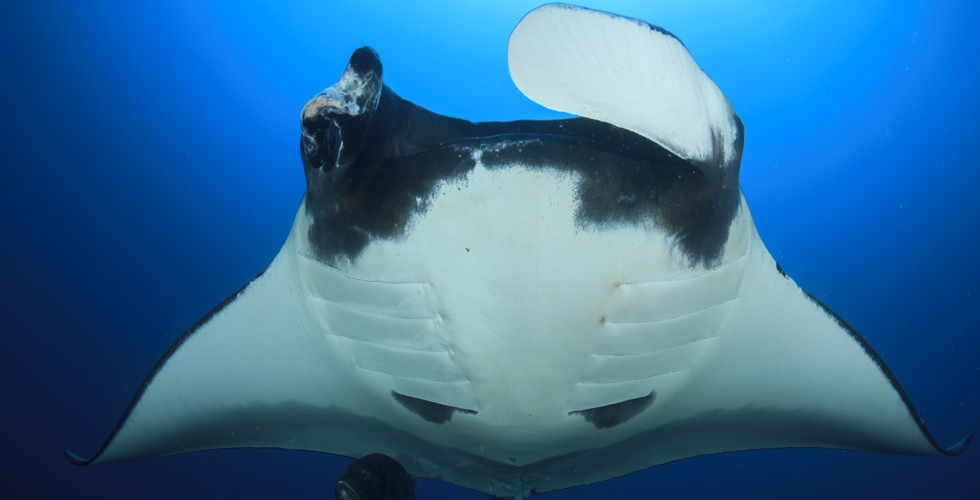 Itinerary
Itinerary and activities may vary according to weather conditions and other factors.
Day 1: Embark at 5pm in Puerto Peñasco. Depart at 6pm.
Day 2: Wake up at Refugio Bay on Angel Island. Potential dive sites: Angel Rock, La Vela, Lolo's Cove. Sunset zodiac cruise with sea lions.
Day 3: Angel Island. Potential dive sites: Andrea's Eagle, El Aquario, Las Vivoras, Las Vivoras (including a night dive).
Day 4: San Pedro Martir. Potential dive sites: El Arroyo, Punta Martir (sea lions), Chayo's Cove.
Day 5: San Pedro Martir. Potential dive sites: Ravijunco, Xareni's Pinnacle, Coromel, Morrito. In the afternoon, we will go looking for whales!
Day 6: Salsipuedes & Animas. Potential dive sites: Los Cuervos, El Caballo, El Lavadero (including a night dive).
Day 7: Baja and snorkeling with whale sharks in Bahia De Los Angeles. Potential dive sites: El Pescador, Baja Ca. Start heading back to Puerto Peñasco in the afternoon.
Day 8: Disembark at 7am.
---
Experience Overview
The Sea of Cortez is rich in biodiversity, from microscopics to giant marine creatures. Among these, the Oceanic Manta Ray population was abundant until the 1980s, when indiscriminate fishing seriously decimated the number of individuals.
Recent studies conducted by Dr. Rubin suggest the return of these fascinating animals (probably individuals coming from the Socorro Islands). These manta rays are colonizing the northern Sea of Cortez, which is rich in zooplankton.
The aim of this expedition is to determine if the manta rays are stabilizing their population in the Sea of Cortez and to collect data about them through photo-identification and tissue samples. In this way, it will be possible to compare the data with the catalogue of Socorro's population and find out if these individuals have really moved from the Revillagigedo Archipelago.
In addition, this trip offers you the chance to go diving and snorkelling with whale sharks, sea lions and mobulas. It will also be possible to go whale watching in order to observe blue whales, dolphins and others cetaceans. You might even have the chance to swim with them (they have the last word on this)!
During this unique experience Dr. Rubin will give talks about all these animals and the local marine life. Moreover, plankton will be collected and analyzed with a microscope.
Join an unforgettable trip and satisfy your desire to explore while concretely helping what you love!
Keep in mind that we have scheduled this trip during the best time of year to spot manta rays, whales, whale sharks, dolphins and sea lions, but don't forget these are wild animals in their natural habitat, so we cannot guarantee sightings.
---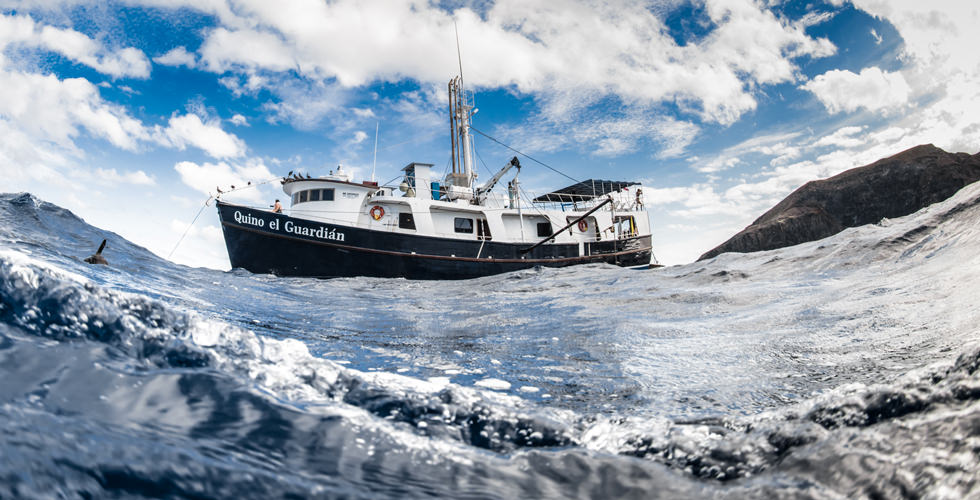 Liveaboard
The Quino El Guardian is a 90-foot (27-meter) boat with 5 cabins (4 with 4 beds and 1 cabin with 2 beds), which can accommodate up to 16 guests. All the cabins have a bunk, a drawer and a bed with a privacy curtain for each person. There are 4 community bathrooms with full-size showers, and each is assigned to a cabin so guests can keep their personal items inside. A/C is available throughout the ship for your comfort.
This vessel has a galley that can accommodate all the passengers and includes a projector and a screen for presentations. In addition, there is a salon with sofas, a TV and a computer table.
If you wish to relax, a large, shaded sundeck with lawn chairs awaits.
In the back of the boat, you'll find a dive deck organized with gear storage for all your diving equipment and spacious camera tables. There is a dive platform that gives you access to two inflatable tenders. These will ferry you to the dive sites and back to the boat. All safety equipment required is on the vessel.
---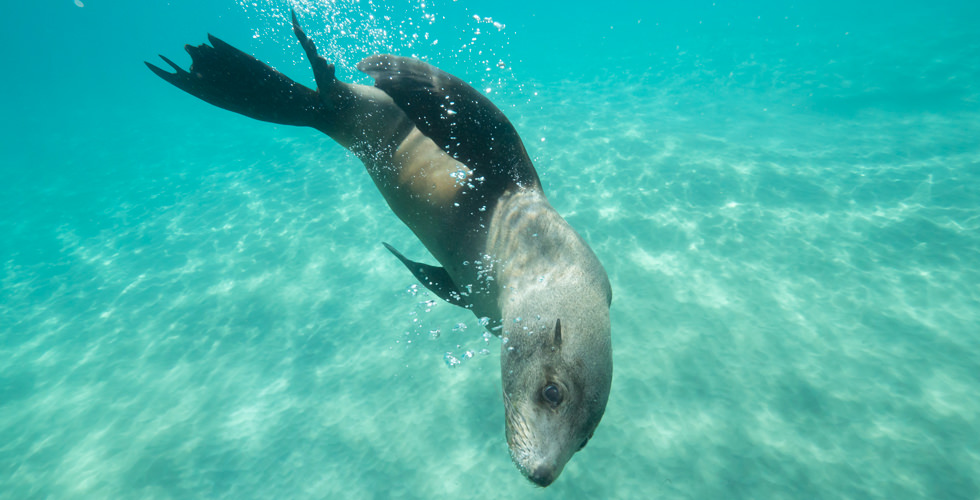 Dates
New dates are coming soon
---
The Trip Leader
Dr. Robert Rubin earned a Ph.D in Physiological Ecology from the University of California Irvine and is presently on the faculty of Santa Rosa College where he teaches courses in Marine Biology and Human Anatomy.
He has been involved in university teaching for several decades and has conducted field and laboratory research on the ecology and physiology of such diverse groups as fish-eating bats, elephants, hooded and harp seals, sea birds, desert dwelling rodents and, for the past twenty­-five years, manta rays in the subtropical Pacific and Indian Oceans.
He has been selected by the State of California and the United States Congress to receive their awards for outstanding contributions to college and university teaching. He is also the recipient of the NISOD award for outstanding contributions to higher education, and in 1996 the Carnegie Foundation for the Advancement of Teaching honored him as "The California College and University Professor of the Year." Furthermore, he has served as a program developer and reviewer for the National Science Foundation (NSF) and for the US Department of Energy (DOE).
Presently, Dr. Rubin serves on the boards of Save our Seas, Sea Watch, Cordell Bank Marine Sanctuary, Laguna de Santa Rosa and The Manta Trust. Additionally, his research on manta rays has been the subject of international public media productions for NOVA, the Discovery Channel, the National Geographic Channel, World of Wonder, BBC, Animal Planet, Blue Realm and most recently as a TEDx invited presentation.
---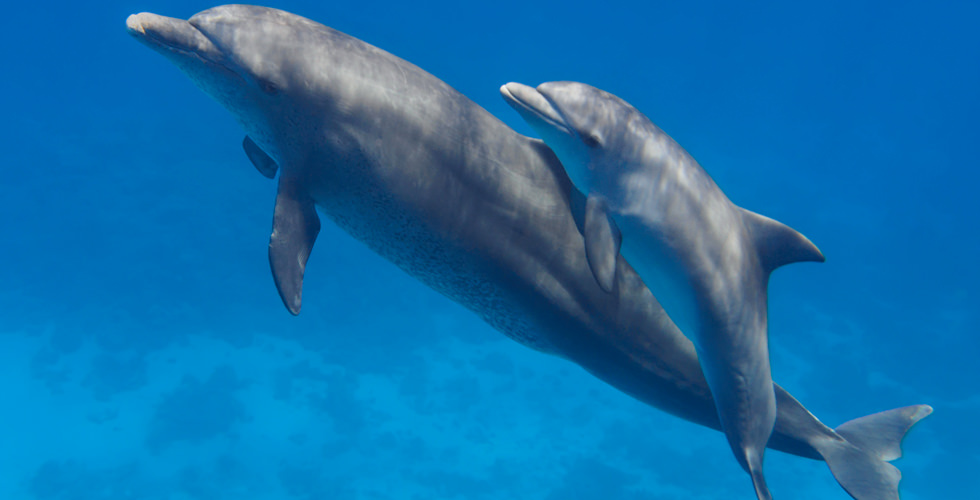 Recommended Equipment
Snorkeling and diving gear
5mm wetsuit with a hood and/or hooded vest if needed
Underwater camera
Polarized sunglasses
---
The Trip Includes
Marine biologist
Biology lectures
3 fabulous meals per day
Snacks all day
Beverages including soft drinks, beer, wine, juice and water
Tanks, weights and weight belts are also provided
Free diving insurance offered by Diviac
---
The Trip Doesn't Include
Fuel surcharge: The Quino El Guardian has the right to implement a fuel surcharge on all trips in the event the cost of fuel surpasses 14 pesos a liter. Should this occur, there will be a fuel surcharge to each client of USD $100. For every additional peso per liter, there will be a USD $40 per passenger increase.
Hyperbaric Chamber fee of USD $15 per person
Park fee of USD $28 per person
Nitrox fee of USD $120 per person per week
Crew gratuity
---
Requirements
Passport
Travel and medical insurance
Diving certificate