Devil Rays Expedition in the Sea Of Cortez
18th January 2017

| Mario Passoni
Photo credit: Guy Stevens founder and CEO Manta Trust
Join an exclusive diving vacation in Baja California and explore the Sea of Cortez.
The aim of this trip is to discover more about mobulas, which are harmless fish related to manta rays. On this trip, two mobula experts, Marta D. Palacios and Frida Lara Lizardi, will involve you in a brand new investigation of these elegant animals.
Moreover, you'll be delighted by the local marine life and the charming crew of Quino El Guardian.
Diviac Eco Travel has selected this trip for you in order to concretely help the marine life of the Sea of Cortez.
---
Essential Information
Where: Baja California, Sea Of Cortez (Mexico)
When: November 4-11, 2017
Who: Marta D. Palacios & Frida Lara Lizardi
Trip Duration: 8 days
Liveaboard: Quino El Guardian
Research Activities: Survey on the local mobula population, photo-ID to identify the species, visual census of mobulas, setting up remote underwater video stations at night and evening lectures
Target Group: Divers, students and families
Max Number of Guests: 16
Price: USD $2,200 per person in quad occupancy
---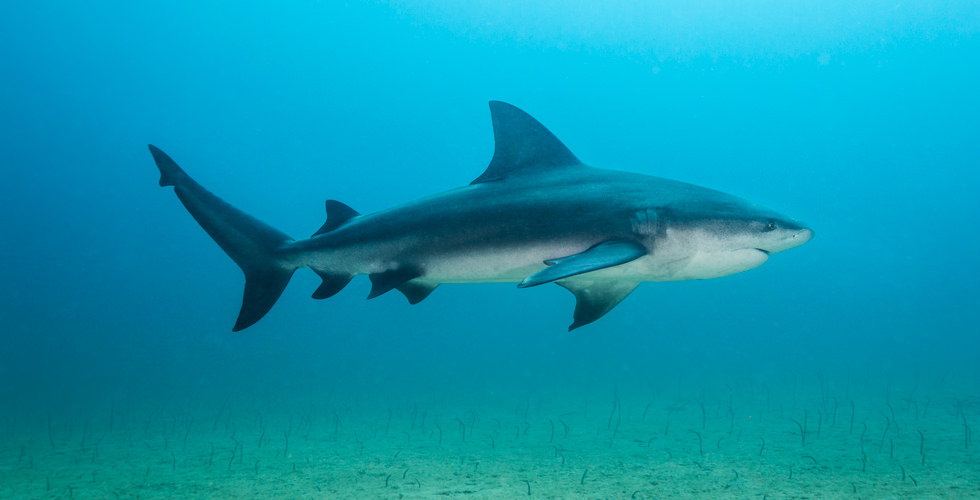 Itinerary
Day 1: Board at 5pm.
Day 2: 2 Dives at Cabo Pulmo. Look for mobulas, then go to Isla Cerralvo.
Day 3: 2 Dives at Isla Cerralvo and 1 night dive with mobulas at Ensenada Grande.
Day 4: Wake up at El Bajo and look for mobulas, 2 dives at Los Islotes and 1 night dive with mobulas. Move to Las Animas (overnight).
Day 5: 4 dives around Las Animas and San Diego. Overnight run to La Paz.
Day 6: Look for mobulas around La Paz. 1 to 2 dives on wrecks. Start going south (overnight).
Day 7: During the day run south looking for mobulas all day then move to San Jose del Cabo (overnight).
Day 8: Disembark at San Jose at 7am.
Itinerary and activities may vary according to weather conditions and other factors.
---
Experience Overview
The Sea Of Cortez is famous worldwide for being home to a huge number of marine creatures, from microscopic invertebrates to enormous whales.
Among the inhabitants worth note are mobulas, which are fish that look like manta rays (with which they are related). In the past, these creatures were called devil rays by fishermen and sailors but, despite this name, they are totally harmless.
In the Sea of Cortez, there are 5 species of mobula ray (one of them is the oceanic manta ray that was recently determined to belong to the mobula group). The smallest and most common is the munk's pygmy devil ray (Mobula munkiana), which can be found in huge aggregations (although we still don't know why). You might even see them jumping out of the water!
The uniqueness of this trip is due to the presence of two marine biologists, which will help you perform innovative research to discover more about the mobulas and protect them.
Thanks to Marta and Frida, you will find out where mobulas live as well as how to distinguish one species from another, their sex and if the females are pregnant. You'll also be led through the process of taking simple pictures in order to identify each specimen.
Some mobulas will be tagged with transmitters that will allow the researchers to mark their movements thanks to receivers previously located in Cabo Pulmo, Cerralvo Island and Espiritu Santo.
Moreover, you will collect samples and analyze zooplankton, which are microscopic animals eaten by mobulas. This is necessary in order to discover what are they eating and if micro plastic is present. These can cause significant damage to the mobula rays.
Up to 14 dives are scheduled (including 2 night dives and 1-2 wreck dives) to let you admire the world of mobulas and enjoy the wonderful backdrops of the Sea of Cortez. In addition, you'll enjoy evening lectures and the opportunity to swim with bull sharks in Cabo Pulmo, where researchers from Pelagios Kakunjá are studying their population.
Keep in mind that this will be a real vacation for you and you can help Marta and Frida as much or as little as you wish. Furthermore, nobody can guarantee that you'll see mobulas, manta rays, bull sharks and other marine creatures, because they are wild animals in their natural habitat.
---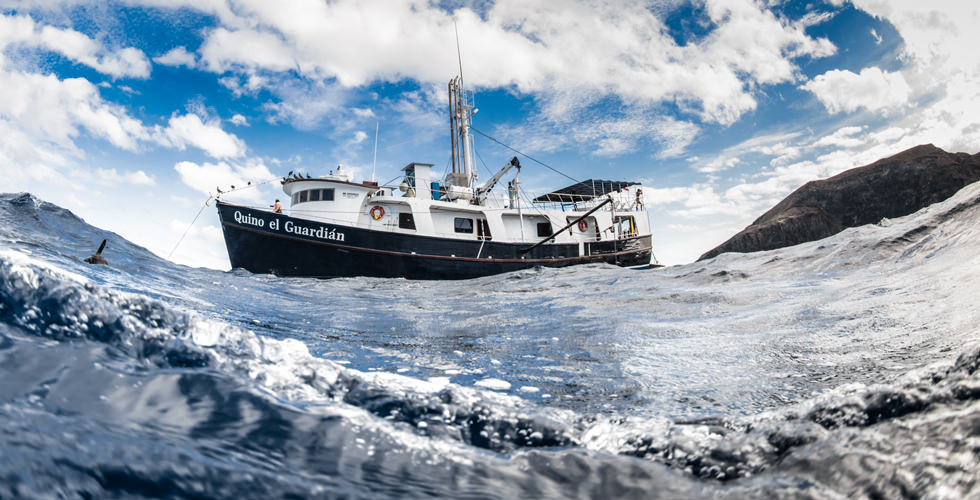 Liveaboard
Quino El Guardian is a 90-foot (27 meters) boat and has 5 cabins (4 with 4 beds and 1 cabin with 2 beds) which can accommodate up to 16 guests. Each cabin has a bunk, a drawer and a bed with a privacy curtain for each person. There are 4 comfortable community bathrooms with full-size showers, and there is A/C throughout the ship for your comfort.
This vessel has a galley that can accommodate all the passengers and includes a projector and a screen for presentations. In addition, there is a salon with sofas, a TV and a computer table.
If you wish to relax, there is a large, shaded sundeck with lawn chairs.
In the back of the boat, you'll find a dive deck organized with gear storage for all your diving equipment and spacious camera tables. There is a dive platform that gives you access to two inflatable tenders. These will ferry you to the dive sites and back to the boat. All safety equipment required is on the vessel.
---
Photo credit: Miguel Guajeardo
2017 Dates
---
The Trip Leaders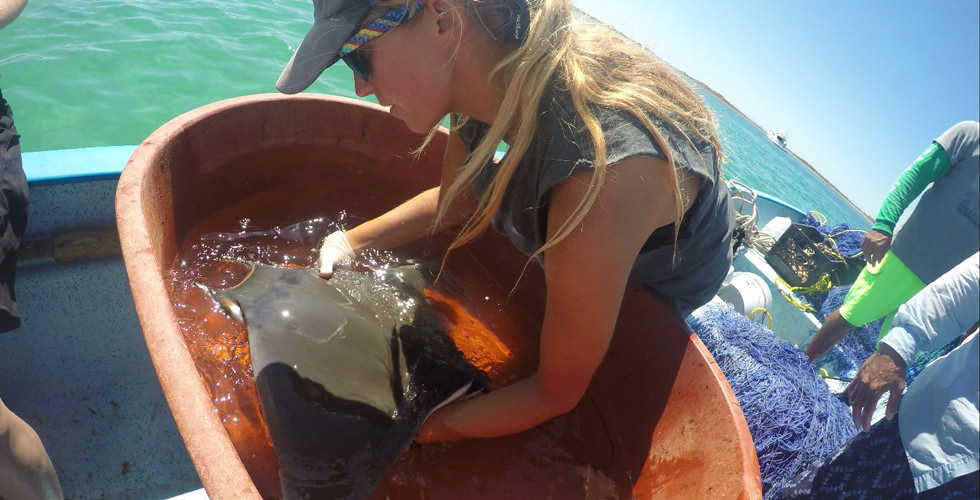 Marta D. Palacios earned her degree as a Marine Biologist in the Canary Islands. She has collaborated in research around the globe: from projects that study freshwater dolphins in the Amazon and penguins in New Zealand to monitoring coral reefs in Indonesia and the assessment of environmental impacts from divers in Ecuador.
She studied the oceanic manta and mobula ray population in the Galapagos where she realized the urgency of studying these amazing creatures to help in their protection.
As a Master's student at CICIMAR-IPN, she is currently carrying out a research project focused on the movements and habitat use of M. munkiana around the Espiritu Santo Archipelago in collaboration with the Monterey Bay Aquarium, Manta Trust and Pelagios Kakunjá.
---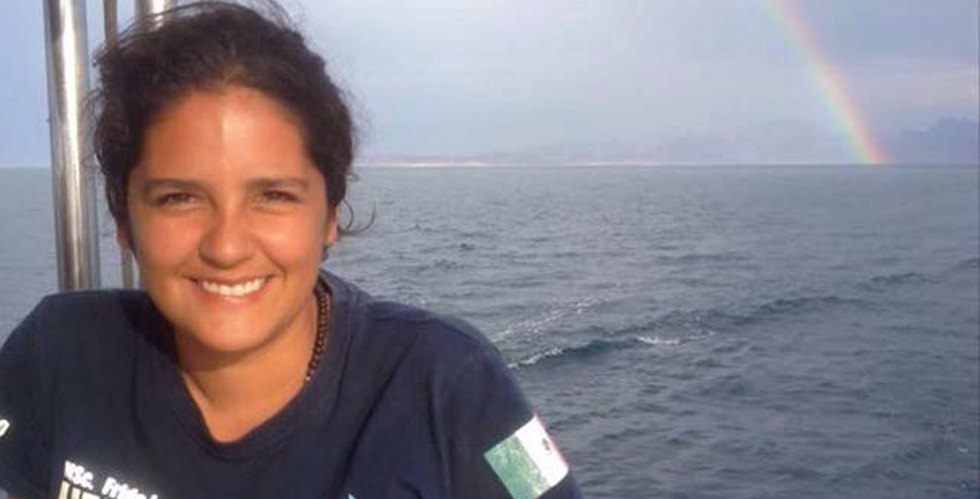 Frida Lara Lizardi is originally from Veracruz, México. Frida completed her degree in Marine Biology in Yucatan and obtained a Master's degree at the University of London. During her training, she has worked on different projects in the Gulf of Mexico, Caribbean Sea, Red Sea and Indian Ocean.
She is particularly interested in studying the behavior, conservation and management of sharks. She has been part of the Pelagios Kakunjá team since 2014 and is currently in her last year of her PhD at CICMAR, studying sharks in the Revillagigedo Archipelago.
---
Recommended Equipment
Snorkeling and diving gear
5mm or 7mm wetsuits
Underwater camera
Polarized sunglasses
---
The Trip Includes
Marine biologists
Biology lectures
3 fabulous meals per day
Snacks all day
Beverages including soft drinks, juice and water
Complimentary beer and wine
Tanks, weights and weight belts are also provided
Free diving insurance offered by Diviac
---
The Trip Doesn't Include
Fuel surcharge: Quino El Guardian has the right to implement a fuel surcharge on all trips in the event the cost of fuel surpasses 14 pesos a liter. Should this occur, there will be a fuel surcharge to each client of USD $100. For every additional peso per liter, there will be an additional USD $40 per passenger increase.
Hyperbaric Chamber Fee of USD $15 per person
Nitrox fee of USD $120 per person per week
Crew gratuity
---
Requirements
Passport
Travel and medical insurance
Diving certificate