Dive with Thresher Sharks in the Philippines
6th February 2018

| Mario Passoni
Sign up for a shark experience in the Philippines. On this trip, shark experts from the Thresher Shark Project will involve you in their project on Pelagic Thresher Sharks in the waters surrounding Malapascua Island.
You'll be delighted by Filipino hospitality and the marine life you'll spot while diving.
PADI Eco Travel has selected this trip for you so that we can work together to help the thresher sharks of the Philippines.
---
Essential Information
Where: Malapascua Island, Philippines
When: From mid-April to the end of June, 2018 - 2019
Trip Duration: 7 days
Accommodations: Tepanee Beach Resort and Slam's Garden Resort
Research Activities: Data collection and assessment of the population dynamics of Pelagic Thresher Sharks at a coastal seamount in the Philippines
Group Target: Divers, students, shark lovers and families
Price: Starting at USD $895 per person
---
Itinerary
Day 1: Arrive at the accommodation in the morning; Check in and enjoy a welcome briefing; 2 training dives in the afternoon
Day 2 - 6: 2 shark dives per day, followed by some video sampling and data processing, biology lectures
Day 7: Check out in the morning
This itinerary is subject to change based on weather conditions.
---
Experience Overview
Malapascua is a small island in the Philippines, situated in the Visayan Sea close to Cebu Island. This tropical island is famous for being one of the most attractive dive destinations. Here it's nearly always possible to dive with many kinds of marine creatures, including Pelagic Thresher Sharks!
Thresher sharks are also called fox sharks and are split up into three living species:
Pelagic Thresher
Bigeye Thresher
Common Thresher
One of these species, the Pelagic Thresher Shark (Alopias pelagicus), is known to inhabit the waters of Malapascua Island. It's the smallest of the three species (3 meters / 10 ft long and about 70 kg / 153 lb). Furthermore, this shark is characterized by the highly elongated upper lobe of its caudal fin, which is used like a whip to strike prey (especially small fish).
In addition, this shark is a strong swimmer and can even be seen jumping out of the water (breaching). It's not aggressive (no one has ever reported an attack on humans), and once it encounters a diver, it can be shy, usually changing direction and swimming away. Unfortunately the population is declining, due to illegal fishing and pollution.
Dr. Simon Oliver and his team are studying the local population of Pelagic Thresher Sharks in Malapascua. At the moment, they are focused on assessing the population dynamics of these sharks.
It should be mentioned that thresher sharks are more active in the early morning, and at that time, they come to a coastal seamount near Malapascua to be cleaned by two species of cleaner wrasses. This is a cleaning station, and here thresher sharks display a similar behaviour to manta rays, if you've ever seen those graceful creatures visiting one of their own cleaning stations.
During your stay, you will learn more about these predators thanks to evening lectures and observation while diving. Every morning, you will go out on a local diving boat, and you will spend the day at sea, coming back to the resort in the afternoon.
You do not need to be an expert to participate in this trip, you only need to be passionate and curious. Your contribution is fundamental to this research and therefore to helping these threatened animals.
---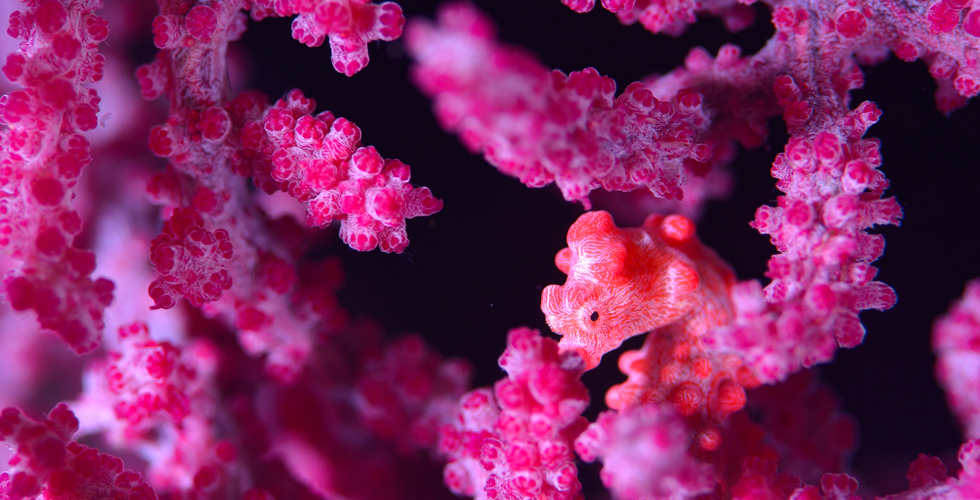 Not Only Thresher Sharks…
Malapascua's dive sites are famous for being home to a variety of interesting creatures, not just to Pelagic Thresher Sharks.
Around the island, at sites nearby you can spot whitetip sharks, different species of seahorses and pipefish (including the ghost pipefish and pygmy seahorses), squid, porcelain anemone crabs, cuttlefish, schools of tropical fish and more than 100 species of nudibranchs!
Moreover, there's a possibility of seeing hammerhead sharks from January to April, and sometimes dolphins, manta rays, mobulas and eagle rays make an appearance, too.
This trip is scheduled to see Pelagic Thresher Sharks, but don't forget these are wild animals in their natural habitat, so we cannot guarantee sightings.
---
Accommodations
Tepanee Beach Resort is quiet and cozy. It has been built using local materials with low environmental impact and offers a lovely private beach with a stunning sunset view. You can choose between three types of room: deluxe, superior and standard. All of the rooms have air conditioning, a ceiling fan, a private bathroom, a hot shower and free wifi.
Inside the resort, you'll find sunbeds at your disposal, a gazebo for massages, a jacuzzi, a gym, the Chiringuito Beach Bar and the Amihan Restaurant, which is located on a hill. From there, you can enjoy breathtaking views while tasting delicious local, Italian and international dishes.
Slam's Garden Resort is only 30m from Logon Beach and offers air-conditioned rooms surrounded by gardens. The resort also provides free wifi in public areas.
Rooms at Slam's Garden Resort come with a private terrace and a safety deposit box. Some rooms also include a fridge. Furthermore, the private bathrooms feature separate toilet and shower rooms.
---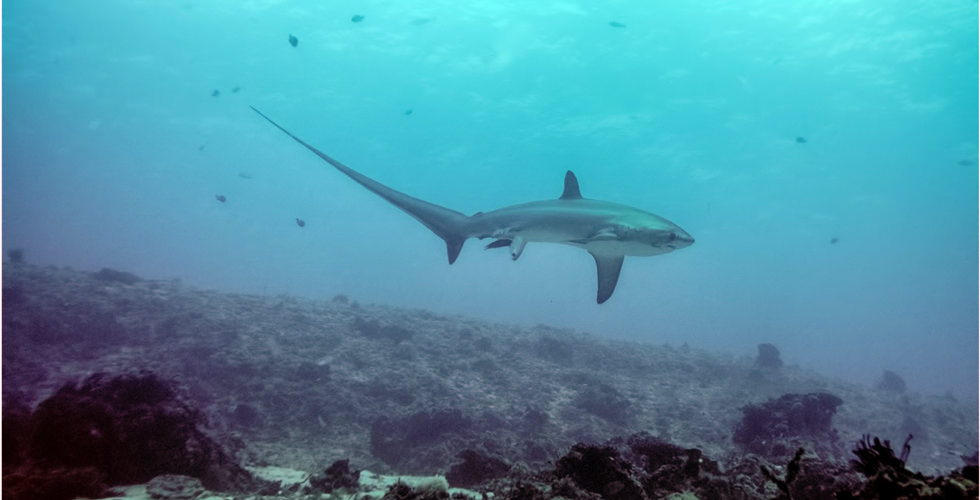 Photo credit: Simon Oliver
Dates and Prices 2018 - 2019
Slam's Garden Resort
From mid-April to the end of June: USD $895 per person
Tepanee Beach Resort (from mid-April to the end of May)
Deluxe room: 1 person USD $ 1,625, 2 person USD $ 1,310 each person, 3 person USD $ 1,215 each person
Superior room: 1 person USD $ 1,475, 2 person USD $ 1,235 each person, 3 person USD $ 1,160 each person
Standard room: 1 person USD $ 1,395, 2 person USD $ 1,195 each person, 3 person USD $ 1,135 each person
Tepanee Beach Resort (June)
Deluxe room: 1 person USD $ 1,550, 2 person USD $ 1,275 each person, 3 person USD $ 1,180 each person
Superior room: 1 person USD $ 1,395, 2 person USD $ 1,195 each person, 3 person USD $ 1,130 each person
Standard room: 1 person USD $ 1,320, 2 person USD $ 1,155 each person, 3 person USD $ 1,110 each person
---
Recommended Equipment
Scuba diving equipment
Polarized sunglasses
Underwater camera
---
The Trip Includes
Accompanying marine biologist
Biology lectures
2 dives per day (departure day excluded)
Breakfast
Free wifi
Free diving insurance offered by PADI Travel
---
The Trip Doesn't Include
Flights and transfers to and from Malapascua
Donation to the Thresher Shark Project
Tips for the crew (recommended)
Travel insurance
---
Requirements
Passport
Travel and medical insurance
Diving certificate