Diving with Manta Rays in Socorro, Mexico
6th January 2017

| Mario Passoni
We are proud to offer you the opportunity to visit one of the most beautiful and charming places in the world where you can dive with manta rays and sharks. Moreover, you can spot pods of dolphins and humpback whales from the vessel.
Dr. Rubin will train and guide you in an unforgettable citizen science experience, collecting important data about the population of oceanic manta rays in Socorro.
Enjoy a fantastic holiday aboard of the Quino El Guardian and give your contribution to saving manta rays!
---
Essential Information
Where: Socorro Island and the Revillagigedo Archipelago, Mexico
When: November 26 - December 5, 2018
Who: Dr. Robert Rubin
Trip Duration: 10 days
Liveaboard: Quino El Guardian
Research Activities: Manta ray survey, photo identification, tracking sex/size ratios, collecting and replacing receivers, cleaning station observations and plankton ID
Max Number of Guests: 16
Price: USD 3,300 per person
---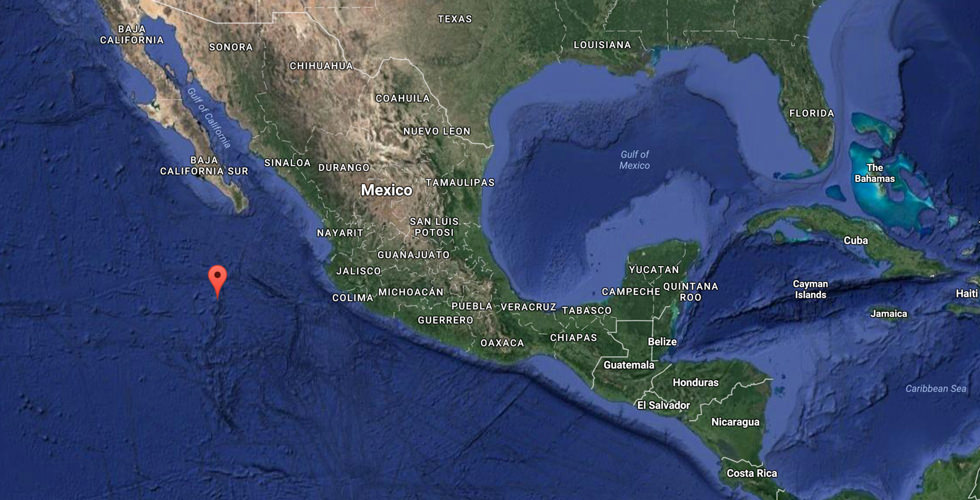 Itinerary
Board the boat the day prior to your departure date. You will board the Quino after 5pm and dinner will be served at 7pm. The boat will depart San Jose del Cabo at midnight.
The itinerary is subject to change based on conditions.
Day 1: Embark on Quino El Guardian between 5pm-7pm. Dinner is served at 7pm. Boat departs at approximately 10pm
Day 2: Day at sea
Day 3: San Benedicto, 4 dives scheduled
Day 4: San Benedicto, 4 dives scheduled
Day 5: Roca Partida, 3 dives scheduled
Day 6: Roca Partida, 3 dives scheduled
Day 7: Socorro Island, 3 dives scheduled
Day 8: San Benedicto, schedule 4 dives - At the end of this day we will start our departure to San Jose del Cabo
Day 9: Arrive at San Jose del Cabo around 11pm - You may sleep on the boat
Day 10: Disembark by 8:30am
---
Experience Overview
The Revillagigedo Archipelago is comprised of four volcanic islands in the Pacific Ocean and is also known as Mexico's Galapagos. The most famous and largest part of the archipelago is Socorro Island, which is an important breeding location for seabirds.
You must arrive to San Jose del Cabo the day prior where Quino El Guardian will be ready to embark at 5pm. Enjoy a lovely dinner at 7pm and the boat will depart at midnight.
You'll sail in a sea full of surprises, where it's possible to spot humpback whales and dolphins. Expert researchers will train you on how to collect important data on manta rays, and you will be involved with the research activities as much or as little as you want.
The temperature of the water is 22-25°C (72-77 °F). 21 recreational dives are scheduled, plus nightly biology presentations in order to give you all the info you need to better understand manta rays and to feel more comfortable with them.
Your free time can be spent snorkeling, free diving or simply relaxing and enjoying the landscape.
To take part in this expedition, you're not required to be an expert in marine biology. It's only necessary to be a diver and to have a passion for the sea and its inhabitants.
This trip is scheduled during the best time of the year to spot whales, dolphins, sharks and rays, but don't forget they are wild animals in their natural habitat, so we cannot guarantee sightings.
---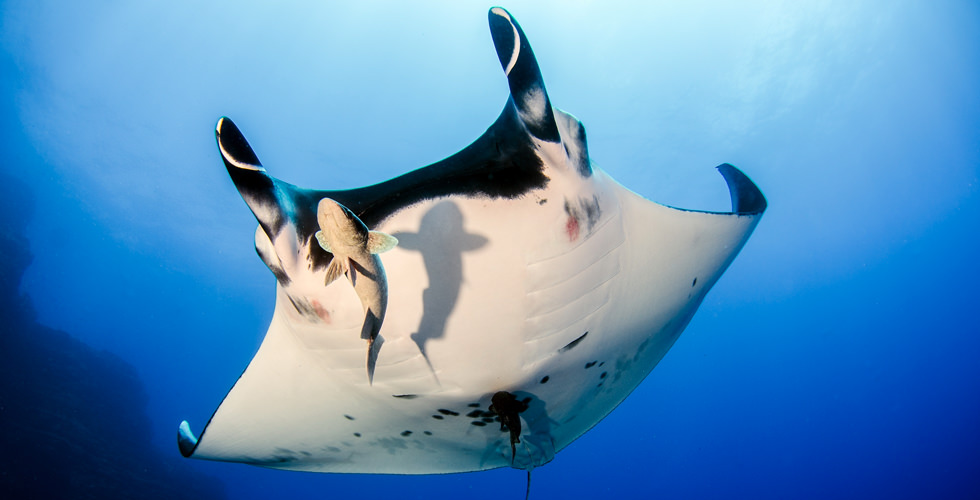 Research activities
This citizen science trip is led by Dr. Rubin, who will give you all the information you need to get involved in the project. Below you can find a list of all the activities that will be carried out:
Placing tags on giant oceanic manta rays.
Taking photo identification images and documenting sex/size ratios.
Collecting and replacing receivers.
Cleaning station observations, plankton ID and manta feeding at the lava field if the water is calm. There will likely be the opportunity to collect pieces of tissue from manta rays in order to obtain DNA that will be later analyzed in the lab to establish kinship relationships.
Dr. Rubin will give you nightly presentations, thanks to his experience with manta rays. The topics of these talks will include:
General talk about mantas.
The evolution of sharks, rays and mantas as the most derived (specialized and recent) stage.
A summary of his past photo ID work and the use of it to show the movements of the manta rays around the islands and in the Sea of Cortez. This data is very important from a conservation standpoint and is being used in the bid to UNESCO for World Heritage site establishment. This will help you to better understand how to take photos and contribute to future research.
Manta feeding.
Manta sex and reproduction. This presentation will help you to determine the sex and, in the case of males, the approximate age of mantas.
Manta conservation and threats. During this presentation, the manta experts will explain why manta rays are killed by humans for the sale of their dried gills which are used in Chinese medicine. This will help you understand why it's so important to protect these animals.
Cleaning symbiosis and interactions with other fish like jacks and remoras.
---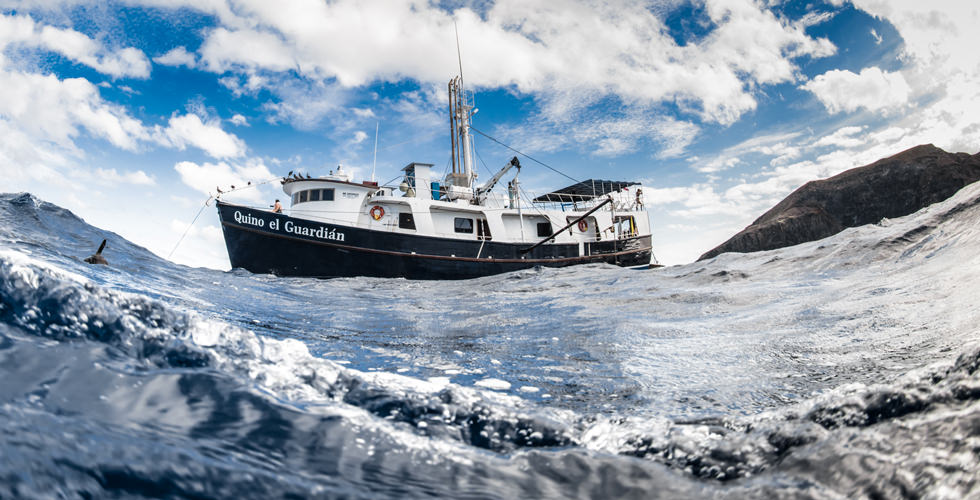 Liveaboard
Quino El Guardian is a 90-foot boat with air conditioning throughout the ship for your comfort. The Quino has 5 cabins (4 with 4 beds and 1 cabin with 2 beds) which can accommodate up to 16 guests. Each cabin has a bunk, a drawer and a bed with a privacy curtain for each person. There are 4 comfortable bathrooms with full-size showers and each is assigned to a cabin so guests can leave their personal items inside.
The Quino has a galley that comfortably accommodates all the passengers and includes a projector and a screen for presentations. In addition, there is a salon with sofas, a TV and a computer table. There is a large, shaded sundeck with lawn chairs for relaxing between dives or to enjoy the stars at night.
In the back of the boat, you'll find a large dive deck organized with gear storage for all your diving equipment and a spacious camera table. There is a dive platform that gives you access to two inflatable tenders. These will ferry you to the dive sites and back to the boat. All safety equipment required is on the vessel.
---
The Trip Leader: Dr. Robert Rubin
Bob earned a Ph.D in Physiological Ecology from the University of California Irvine and is presently on the faculty of Santa Rosa College where he teaches courses in marine biology and human anatomy.
He has been involved in college and university teaching for several decades and has conducted field and laboratory research on the ecology and physiology of such diverse groups as fish-eating bats, elephants, hooded and harp seals, sea birds, desert dwelling rodents and, for the past twenty­-five years, manta rays in the subtropical Pacific and Indian Oceans.
He has been selected by the State of California and the United States Congress to receive their awards for outstanding contributions to college and university teaching. He is the recipient of the NISOD award for outstanding contributions to higher education, and in 1996 the Carnegie Foundation for the Advancement of Teaching honored him as "The California College and University Professor of the Year." He served as a program developer and reviewer for the National Science Foundation (NSF) and for the US Department of Energy (DOE).
Presently, he serves on the boards of Save our Seas, Sea Watch, Cordell Bank Marine Sanctuary, Laguna de Santa Rosa and The Manta Trust. Additionally, his research on manta rays has been the subject of international public media productions for NOVA, the Discovery Channel, the National Geographic Channel, World of Wonder, BBC, Animal Planet, Blue Realm and most recently as a TEDx invited presentation.
---
Recommended Equipment
Snorkeling and diving gear
5mm or 7mm wetsuits (the temperature of the water is 22-25°C (72-77 °F))
Underwater camera
Polarized sunglasses
---
The Trip Includes
21 scheduled dives
Three fabulous meals per day
Snacks all day
Beverages including canned soft drinks, juice and water
Complimentary beer and wine
Tanks, weights and weight belts are also provided
Free dive insurance from Diviac
---
The Trip Doesn't Include
Fuel surcharge: Quino El Guardian has the right to implement a fuel surcharge on all trips in the event the cost of fuel surpasses 14 pesos a liter. Should this occur, there will be a fuel surcharge to each client of $100. For every additional peso per liter, there will be an additional $40 per passenger increase.
National Park Fees of USD $28 per person
Hyperbaric Chamber Fee USD $15 per person
Nitrox fee of USD $120 per person per week
---
Requirements
Passport
Travel and medical insurance
Diving certificate