Extreme scuba diving adventures - An interview with Amos Nachoum
30th May 2016

| Sandro Lonardi
Amos Nachoum is a wildlife photographer, expedition leader, explorer and environmentalist with an incredible history of extreme wildlife encounters.
From a young age he knew he wanted to be a photographer. After trying out fashion photography, war photography and photojournalism, Amos Nachoum found his true calling as an underwater wildlife photographer. For nearly 4 decades, he has quietly changed our perception of big animals through his unique style of underwater photography, transforming sharks, crocodiles, Polar bears and more from wild and dangerous beasts to relatable cohabitants of Earth.
Today, Amos Nachoum not only wants to bring the underwater world to you via his photographs, he also wants to bring you to the underwater world. Through his company, BigAnimal Expeditions, Amos leads underwater expeditions to photograph some of the world's most feared animals, including crocodiles and Polar bears.
We're happy to announce that Diviac has partnered with BigAnimal Expeditions to offer our customers the opportunity for unique underwater adventures. Read on to learn more about the remarkable life of Amos Nachoum.
---
Diviac: How did you get into scuba diving?
Amos: I was freediving and scuba diving long before as a hobby in Israel. I grew up by the Mediterranean sea and was in the water almost every weekend while growing up.
---
Diviac: How did you get into extreme expeditions?
Amos: After ten years of photography from the late 70s to the late 80s over most of the exotic ocean, including the Maldives, the Red Sea, Galapagos, Cocos, Indonesia and the Philippines, I realized that all photographers are doing the same thing. To be successful as a photographer, I learned that I needed to have an expertise that others do not have. I have invested all that I have into becoming the best I can be in developing a unique portfolio of images and expeditions.
---
Diviac: What is the most remarkable experience you have had?
Amos: There are numerous events in my life that are suitable for this answer, but two stood out the most when you asked the question - documenting an endangered species in a remote location and against all odds.
I was diving for adventure and to change the perception of Polar bears. I went to dive with a family of Polar bears, a mom and her two cubs, in August 2015. Mind you that 11 years ago when I tried this wild idea in the first time, the single bear went diving after me to 70 feet (23 meters)! When he stopped, I was only few feet below at 80 feet (24 meters).
In 2014, on my first photo assignment to photograph Snow Leopards (Ghost cats) in the high, 4,500 meter (14,700 feet) mountains of Ladakh, India, I was rewarded with the opportunity to capture two cats snuggling together.
Both photo assignments and their results are the first ever of their kind.
---
Diviac: What would you say to someone thinking about joining one of your trips?
Amos: Come in and join us with a sense of adventure and you will return inspired to do more of the same and will be richer emotionally. Mother Nature is not a zoo or an aquarium. Be patient and passionate and she will always surprise you with more than you humanly could expect. You will learn more about yourself and will be able to appreciate how fragile our wilderness is.
---
Diviac: Which is the next scuba boundary you will be pushing?
Amos: My company BigAnimals Expeditions is now engaged in producing a new adventure photographing Grizzly bears in Russia above and below the water too.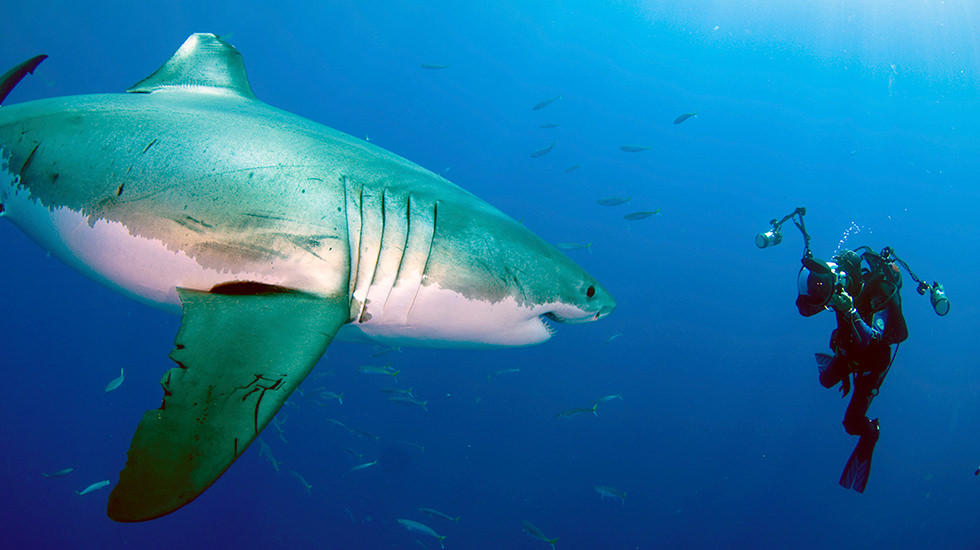 Photo credit: Amos Nachoum
Amos Nachoum Expeditions
Are you ready to jump in the water with Amos Nachoum? Check out the links below for all the unique expeditions you can join.