Gray Whales - The World's Best Places for Whale Watching and Swimming
9th December 2016

| Mario Passoni
Gray whales (Eschrichtius robustus) owe their name to the color of their body. But, these whales are also known as devilfish, because when they were hunted, they had a violent and aggressive reaction to their hunters.
Gray whales can be found in the Pacific Ocean, and it is known that gray whales can migrate more than 6,200 miles (10,000 kilometers) from Alaska (where they feed) to Mexico (where they breed and give birth). They therefore swim about 12,400 miles (20,000 kilometers) per year!
Gray whales are also known as the friendly whale. This is because they like to come very close and rub their back against boats.
Fortunately, they are no longer killed and are the most desirable "prey" during whale watching tours.
---
The Best Places for Whale Watching
The following are the world's best places to watch gray whales in their natural habitat.
Baja California Sur, Mexico
Baja California has many beautiful bays that gray whales use for mating and breeding. These creatures can be observed both inside the Sea of Cortez and also in the following areas: Bahía Magdalena, San Ignacio Lagoon, Guerrero Negro and Ojo de Liebre Lagoon.
Whale watching excursions in Mexico last half a day. On these tours, you will enjoy this unique experience on small boats, which allow you to get close to these beautiful cetaceans. Most of the tours in the area are a series of 2 to 5-day programs where visitors go out in the morning and in the afternoon each day. Bring your camera and enjoy the tour!
Best Time: January to March
---
Cowichan Bay, Vancouver Island, Canada
Located in the southeast of Vancouver Island, Cowichan Bay offers the opportunity to see killer whales, humpback whales, gray whales and minke whales during a half-day tour. You might also spot dolphins and steller sea lions. If you love bird watching, you will find a great variety of species in the area. You may additionally have the chance to admire bears hunting salmon.
Best Time: March to April
---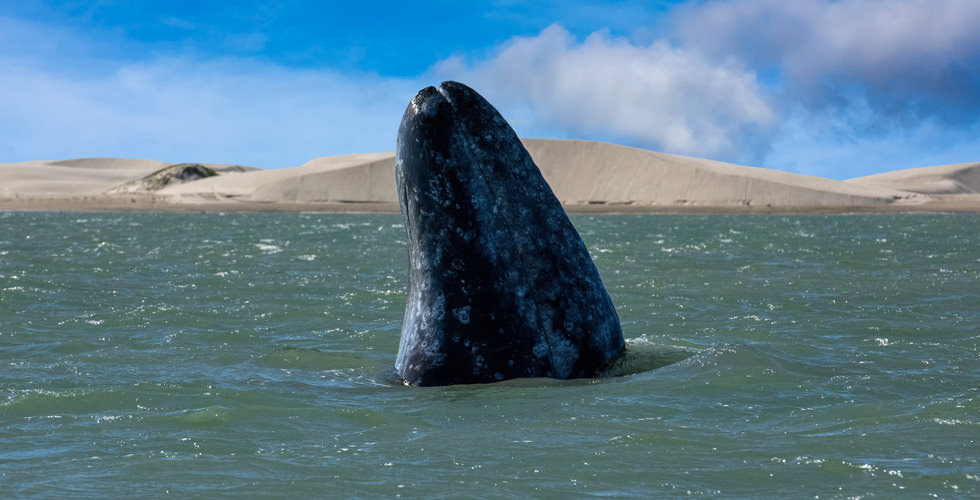 Best Places for Swimming with Gray Whales
Unfortunately, there are no places where swimming with gray whales is permitted.
---
Code of Conduct
We always recommend following the code of conduct while enjoying gray whale encounters. It's the best way to respect these gentle giants. We also suggest verifying the company providing your whale tour is registered and has a permit to do so. Furthermore, it's best to use eco-friendly companies. This will ensure you have the best possible experience while knowing that the whales and environment are respected.
---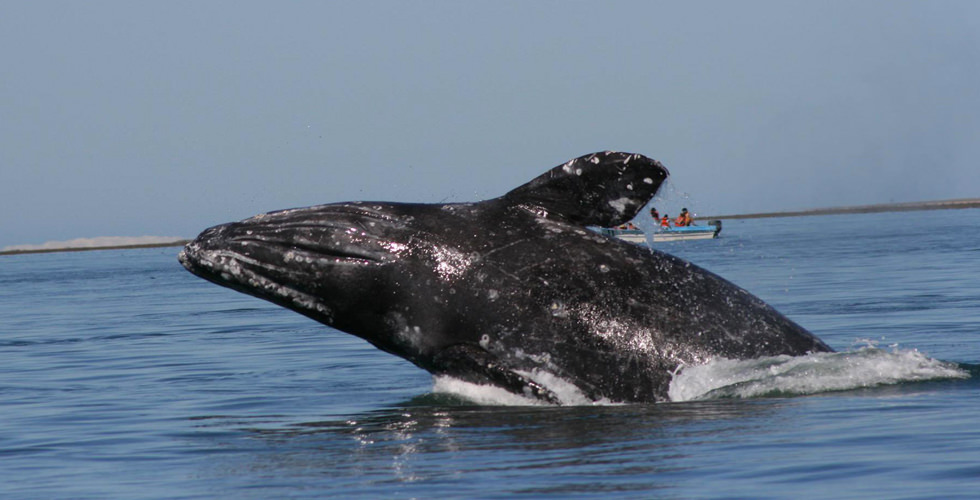 Photo credit: Elena Redaelli
Common Questions about Gray Whales
How Big is a Gray Whale?
Adults can reach a length of 42-46 feet (13-14 meters).
---
How Much Do Gray Whales Weigh?
These whales weigh approximately 70,000 pounds (30,000 kilograms). Females are usually larger than males.
---
How Long is the Gestation Period of Gray Whales?
The breeding season is between November and December. The gestation period is very long (13.5 months), and the calves are born between December and February.
---
How Long is the Lactation Period of Gray Whales?
It lasts 7 months. The pup, drinking about 80 gallons (300 liters) of milk per day, grows up to a length of 27 feet (8 meters) and reaches a weight of 15,000 pounds (6,800 kilograms) during this period. This means gray whales gain more than 13,000 pounds (6,000 kilograms) in just 7 months!
---
How Much Does a Baby Gray Whale Weigh at Birth?
Baby gray whales have an average length of about 16 feet (5 meters) and an average weight of about 1,100 pounds (500 kilograms).
---
How Long Do Gray Whales Live?
They can live up to 40 years.
---
What Do Gray Whales Eat?
Unlike other whales that are plankton feeders, these large marine mammals feed on animals that live on the seabed (bottom feeders). To do so, gray whales turn on their side and scrape the sandy bottom, filtering mollusks, crustaceans and other small animals through their baleen.
---
How Often Do Gray Whales Need to Eat?
They feed often while in the cold waters near the poles in order to accumulate fat, which they use when they reach tropical waters for the mating period.
---
How Many Gray Whales Are Left in the World Today?
There are two populations of gray whales, and both live in the Pacific. The Eastern Pacific population includes about 24,000 individuals, while the Western Pacific population is only about 200 whales strong. The current population trend is stable.
---
Are Gray Whales an Endangered Species?
No, their status is "LC" (Least Concern).
---
How Fast Can Gray Whales Swim?
They can swim from 1 to 2.5 mph (1.6 to 4 kph) while feeding. When in danger, gray whales can swim up to 10 to 11 mph (16 to 17.5 kph).
---
What Sounds Do Gray Whales Produce?
Listen to the gray whale song.
---
Where Can You Find Gray Whales?
Check out their home range map.
---
Credits
This article was written by Mario Passoni, a marine biologist involved in several projects concerning ocean conservation and education. Special thanks to Wayne Sentman from the Oceanic Society as well as Thalia Martinez.