Humpback Whales Adventure in Socorro, Mexico
9th January 2017

| Mario Passoni
Photo Credit: Roderick Eime
Get ready to join an amazing citizen science trip looking for humpback whales and diving in a fantastic place in the Pacific Ocean.
The Revillagigedo Archipelago is an incredible location where it is you can dive and swim with manta rays, many types of sharks and dolphins. This is the ideal time of year for whale sightings and interactions.
Join Dr. Jorge Urban in his research on humpback whales aboard the Quino El Guardian. Give your contribution to protecting whales while having the holiday of a lifetime!
---
Where: Socorro Island and the Revillagigedo Archipelago, Mexico
When: New Dates Coming Soon
Who: Dr. Jorge Urban
Trip Duration: 10 days
Liveaboard: Quino El Guardian
Research Activities: Humpback whale survey, photo identification
Max Number of Guests: 16
Price: USD $3,200 per person
---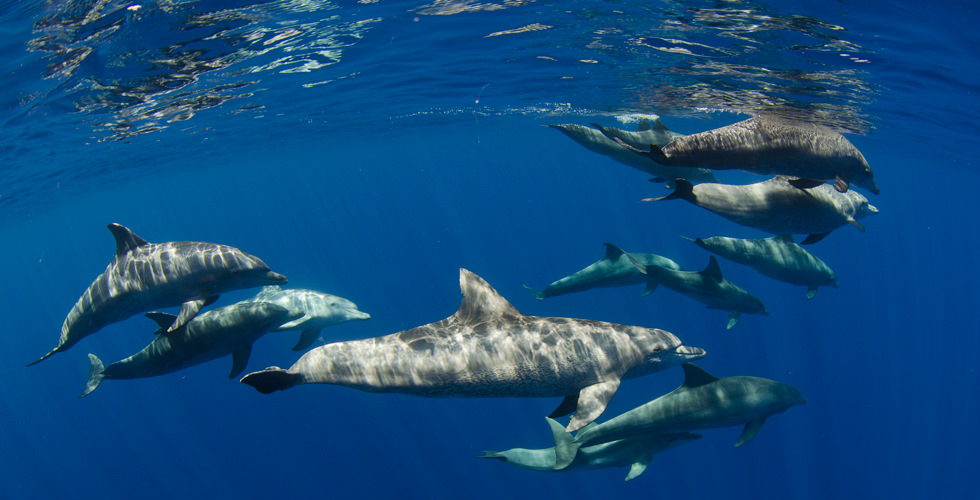 Itinerary
Board the boat the day prior to your departure date. You will board the Quino after 5pm and dinner will be served at 7pm. The boat will depart San Jose del Cabo at midnight.
This is a very special itinerary. Each day you will do two dives. The rest of the day you will be following the whales in the inflatables and snorkeling with them. This will ensure maximum opportunities for whale interaction!
The itinerary is subject to change based on conditions.
Day 1: Embark on Quino El Guardian
Day 2: Day at sea
Day 3: The Quino El Guardian arrives to San Benedicto around 7am. Start Diving! 2 dives scheduled
Day 4: San Benedicto, 2 dives scheduled
Day 5: Roca Partida, 2 dives scheduled
Day 6: Roca Partida, 2 dives scheduled
Day 7: Socorro Island, 2 dives scheduled
Day 8: San Benedicto, schedule 2 dives - At the end of this day we will start our departure to San Jose del Cabo
Day 9: Arrive at San Jose del Cabo around 11pm - You may sleep on the boat
Day 10: Disembark by 8:30am
---
Experience Overview
The Revillagigedo Archipelago is one of the most famous destinations in the world for observing and interacting with whales, dolphins, manta rays and sharks. Each year humpback whales swim in these waters as a part of their long migration.
During this unforgettable cruise, you will go diving twice a day, having the opportunity to swim with hammerheads, tiger sharks, silky sharks, Galapagos sharks, sea turtles, manta rays and many more. We will spend the rest of the day following the whales and snorkeling with them. This will ensure that you have the maximum opportunity for direct whale interaction.
Dr. Urban will be at your disposal, giving you marine biology lectures in order to help you appreciate the wonderful world of whales.
In addition, he will teach you how to observe and identify these harmless creatures. The data collected will be used to monitor their population and protect them.
To take part in this expedition, you're not required to be an expert in marine biology. It's only necessary to be a diver and to have a passion for the sea and its inhabitants.
We scheduled this trip during the best time of year to spot whales, dolphins, sharks and rays, but don't forget these are wild animals in their natural habitat, so we cannot guarantee sightings.
---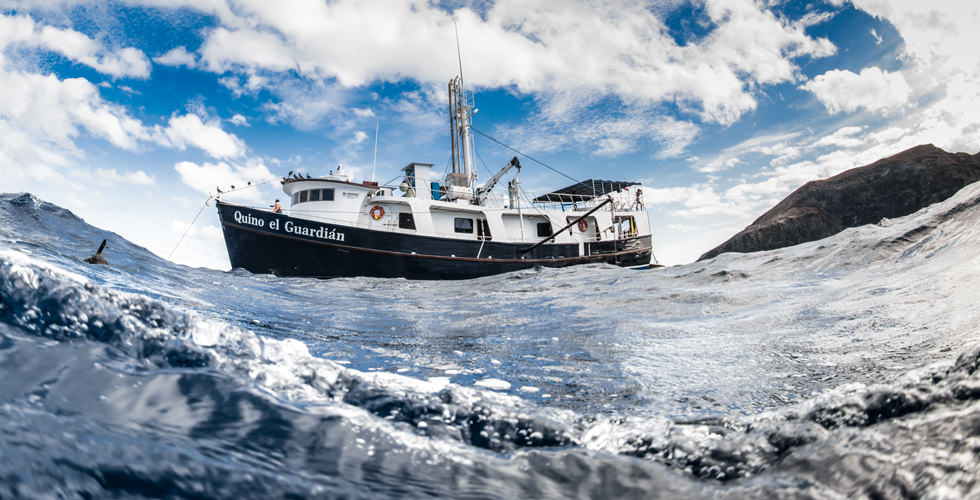 Liveaboard
Quino El Guardian is a 90-foot boat with air conditioning throughout the ship for your comfort. The Quino has 5 cabins (4 with 4 beds and 1 cabin with 2 beds) which can accommodate up to 16 guests. Each cabin has a bunk, a drawer and a bed with a privacy curtain for each person. There are 4 comfortable bathrooms with full-size showers and each is assigned to a cabin so guests can leave their personal items inside.
The Quino has a galley that comfortably accommodates all the passengers and includes a projector and a screen for presentations. In addition, there is a salon with sofas, a TV and a computer table. There is a large, shaded sundeck with lawn chairs for relaxing between dives or to enjoy the stars at night.
In the back of the boat, you'll find a large dive deck organized with gear storage for all your diving equipment and a spacious camera table. There is a dive platform that gives you access to two inflatable tenders. These will ferry you to the dive sites and back to the boat. All safety equipment required is on the vessel.
---
The Trip Leader: Dr. Jorge Urban
Jorge is a graduate of the National Autonomous University of Mexico (UNAM). He is a professor of Marine Biology at the Universidad Autónoma de Baja California Sur (UABCS), La Paz, B.C.S., where he directs the "Research Project on Marine Mammals" (PRIMMA). Jorge has led gray whale and other cetacean research programs in Baja California since 1996.
He is widely published in scientific literature on marine mammals and marine conservation and serves on the IUCN Cetacean Specialist Group and the Scientific Committee of the International Whaling Commission. In addition, Dr. Urban is a former President of the Mexican Society for Marine Mammalogy (SOMEMMA).
---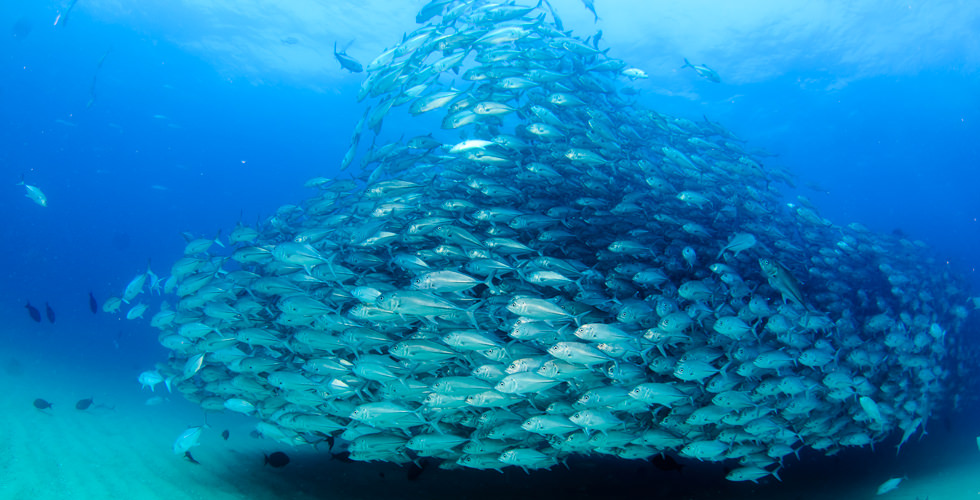 Recommended Equipment
Snorkeling and diving gear
5mm or 7mm wetsuits (the temperature of the water is 22-25°C (72-77 °F))
Underwater camera
Polarized sunglasses
---
The Trip Includes
12 dives
3 fabulous meals per day
Snacks all day
Beverages including soft drinks, juice and water
Complimentary beer and wine
Tanks, weights and weight belts are also provided
Free dive insurance from Diviac
---
The Trip Doesn't Include
Fuel surcharge: Quino El Guardian has the right to implement a fuel surcharge on all trips in the event the cost of fuel surpasses 14 pesos a liter. Should this occur, there will be a fuel surcharge to each client of $100. For every additional peso per liter, there will be an additional $40 per passenger increase.
National Park fees of USD $28 per person
Hyperbaric chamber fee of USD $15 per person
Nitrox fee of USD $120 per person per week
---
Requirements
Passport
Travel and medical insurance
Diving certificate