This is a guest post from Bonnie Waycott about diving in Japan.
I began diving back in 2011 in southern Japan's warmest and most tropical seas that surround the islands of Okinawa (The Ryukyu Islands). The possibilities here are endless, with rich coral reefs, landscapes, range of currents, rock formations, hammerheads and even some mysterious underwater ruins.  Thanks to its warm waters, Okinawa is the only place in Japan where it's possible to dive all year round without having to resort to a drysuit.  In Japan, they say that if you're after some manta madness, Ishigaki Island is the place to be.
Manta Scramble is the point where the mantas congregate, or rather scramble, to be cleaned and to feed off the blooming plankton.  Watch and marvel at the dark figures in the distance that glide towards you, swooping in from all sides.
The world's oceans and coral reefs have been through a lot of turmoil in recent years and those in Okinawa have not been immune.  Typhoons are also frequent visitors but the reefs are still thriving and healthy with efforts underway to protect them.  Miyakojima Island takes you away from giant creatures and into a world of staghorn coral, gorgonian fans and table coral – spreading for miles at shallow depths of 10 to 12 meters.  The island is also a real eye-opener in terms of just how volcanic Japan's geology is.  One of its most popular dive sites leads you through a rock and out into an extremely humid pitch-black dome where a misty sheet of vapour suddenly envelopes you as you pop up to the surface.  It's a mystical scene coupled with the transparent blue colour of the water.
If you're happy to travel further west of the Okinawa mainland for about one hour and don't get too seasick, the Kerama Islands are well worth getting up early for.  The islands have perhaps the most prolific marine animal life in the area, including yellow boxfish, stripe tailed damselfish, various crustaceans and even some octopus deep inside the small crevices.  With stunning coral formations and a host of flora and fauna, the Kerama Islands are a fantastic diving opportunity for both confident divers and novices.
Further north of Okinawa are the Amami Islands.  One of my favourite destinations there is Yoronto (or Yoronjima or Yoron Island) on the southernmost end of Kagoshima prefecture in Kyushu.  Its beaches, with soft white sand, are genuinely stunning and tiny little pieces of coral from the surrounding reefs wash up as star-shaped sand.  That's exciting enough, but then there's the diving.  Visibility is excellent and the shallower points between 8 and 15m are heaps of fun.  Some of the dive sites open up into areas full of life, including clownfish and their babies, as well as small crabs, probably trying to find homes among the tentacles.
The less tropical and yet geographically fascinating Tokunoshima boasts of a resident green turtle named Yamachan.  With a mountain-like shell, he's been in the area for over 10 years and is more than happy for divers to take close ups.  Further out to sea is a cluster of 3 rocks that, despite the strong unpredictable currents and far off location, is the island's most popular site.
Peering over the massive monoliths into the deep dark blue is enough to send shivers down your spine but giant trevally and pelagics of all shapes and sizes will swim by if you're in luck.
One of the most popular fish off another island, Amami Oshima, is the tiny Gilbert's cardinal fish that lives in large aggregations among the coral in sheltered lagoons and bays.  They are steady and focused, numbering in their thousands in tornado formation, hovering over the many rocks that are surrounded by carpets of white sand.
As summer arrives in Japan, the diving options increase and if you're itching to get into the water before the heat kicks in, you can't go wrong by visiting the Tokyo area, in particular Miyakejima, 6 hours south of the capital on an overnight ferry.  In 2000, the island's volcano erupted, damaging the underwater environment but don't let this put you off!  May is the best time to visit as the Kuroshio current raises the sea temperature and the marine life really comes alive.  In May, squid spawn off Miyakejima, depositing long white tubes full of eggs onto a cluster of tree branches and nothing is more fun than lying flat in the warm water, taking shot after shot as the squid swim about.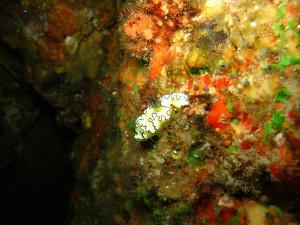 For macro life, the nearby island of Kozushima offers unique diving and a vast assortment of sea slugs, nudibranchs, starfish and crabs while night dive fans will enjoy meeting lobsters, shrimp and sleeping fish there. The seas off Tokyo are also home to shipwrecks. One of the only dive-able wrecks close by in the city of Atami is the Chinsen or quite literally "shipwreck," an 85m-long barge that split in two after sinking in a typhoon about 20 years ago.  Descending to about 21m along a rope, the best parts are around 25m where you can explore the sides.  If you have a torch, many discoveries await such as moray eels nesting in the nooks and crannies, halflined cardinals and sea fans gripping the surface of the wreck that's also caked in sponges, nudibranchs and spider crabs.  This site is a very good introduction to wreck diving.
One thing for anyone looking for something different and challenging is to dive off the Shiretoko Peninsula in Hokkaido, northern Japan. In winter, it becomes a key area for observing drift ice that blows south from the Sea of Okhotsk.  Donning a dry suit and entering the water is a whole new experience altogether and nothing is more impressive than the huge ice boulders above you.  Over the rocky terrain look out for the extremely tiny Clione, a type of sea slug also known as a Sea Angel, a great name for a creature with cute little wings and ears that's born flittering in the ocean.  There may be very little marine life here, but the feeling of satisfaction you get after an ice dive is indescribable.
---
An Introduction to Bonnie:

"I was born in the UK and grew up in Japan between the ages of 8 and 13. I became interested in marine life when my father taught me how to snorkel off the Japan Sea coast near my mother's hometown. I'd always remembered my snorkelling holidays but learned to dive in New Caledonia in 2010, and Japan never really came to mind when I thought about diving in Asia.
That changed when I went to Okinawa in early 2011 and knew I'd stumbled across something. Having fallen in love with scuba diving itself, I set myself a challenge in 2011 to dive once a month in Japan and began recording my adventures on my blog, Rising Bubbles, which today is a comprehensive guide to the country's dive spots. This is my introduction to diving in Japan where an underwater world's just waiting to be explored."
---