Manta Experience in Socorro with the Marine Megafauna Foundation
16th October 2017

| Mario Passoni
Book your spot on this manta trip and dive with gentle giants from the Quino El Guardian.
Manta expert Stephanie Venables invites you on a thrilling journey, which is completely dedicated to one of the most charismatic marine creatures. She will involve you in a very important project to protect what you love.
Diviac Eco Travel has selected this trip in order to concretely help the giant manta ray population of Mexico.
---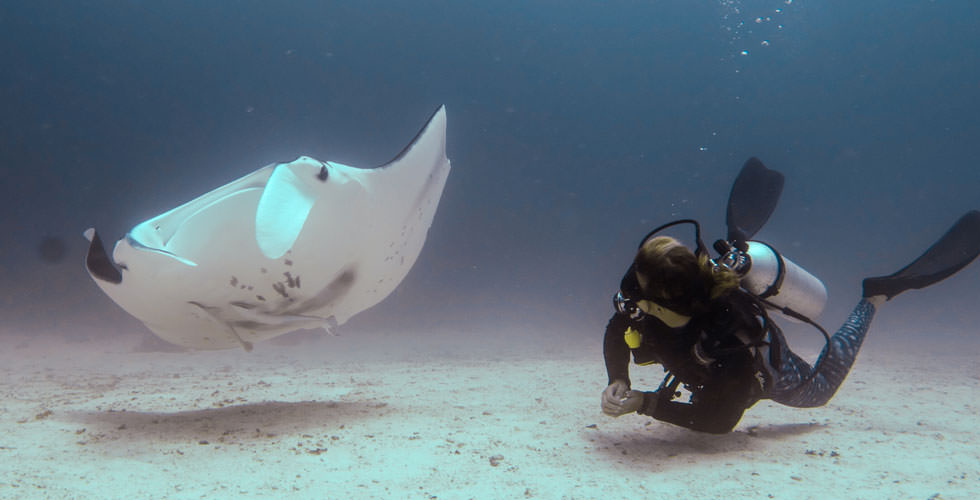 Essential Information
Where: Socorro Island and the Revillagigedo Archipelago, Mexico
When: May 5-14, 2018
Who: Steph Venables of the Marine Megafauna Foundation
Trip Duration: 10 days
Liveaboard: Quino El Guardian
Research Activities: Manta ray survey, photo identification, tracking sex/size ratios, recording environmental conditions, analyzing and recognizing manta behaviour
Group Target: Manta addicts, divers, freedivers, students and families
Max Number of Guests: 16
Price: USD $3,300 per person
---
Itinerary
Board the boat between 5pm and 7pm on the day of departure. After enjoying a wonderful dinner, relax on the boat. The Quino departs just after midnight for San Benedicto.
Day 1: Board the boat between 5pm-7pm. Dinner is served at 7pm. Boat departs at approximately 10pm
Day 2: Day at Sea
Day 3: San Benedicto, 4 dives scheduled
Day 4: Socorro, 3 dives scheduled (check in with Naval Station)
Day 5: Socorro, 4 dives scheduled
Day 6: Roca Partida, 3 dives scheduled
Day 7: Roca Partida, 3 dives scheduled
Day 8: San Benedicto, 4 dives scheduled. At the end of this day we will start our departure to San Jose del Cabo
Day 9: Arrive at San Jose del Cabo around 11pm. You may sleep on the boat
Day 10: Disembark by 8:30am
This itinerary is subject to change based on weather conditions.
---
Experience Overview
Giant mantas are the largest rays in our oceans. They are cartilaginous fish belonging to the mobula group and are related to sharks and more closely to stingrays and eagle rays. Mantas feed on zooplankton, which they ingest by widening their huge mouths and filtering the tiny organisms through their gills.
They are completely innocuous, as they are without teeth or a sting at the base of their tails like other rays. Compared to reef manta rays, giant manta rays are bigger, exceeding three meters in width and can grow to over 7 meters (23 ft) across.
In the transparent waters of the Revillagigedo Archipelago, there is a population of giant mantas. This place is unique and famous as one of the few spots in the world where a resident population of these rays can be found. These creatures are usually found offshore and are therefore usually quite difficult to observe.
After about one and a half days of sailing, you will arrive in San Benedicto, one of the volcanic islands that make up the archipelago. From here, you'll go diving at sites where mantas, dolphins, tuna, scalloped hammerheads, tiger, white tip, silver tip and Galapagos sharks among others are waiting for you. The wonder of these places is to never knowing what awaits you when you enter the water!
The main target is, however, to swim and interact with giant manta rays. With your help Steph will gather information on the population of these animals and the environmental conditions they live in. Through evening lectures she will provide an overview of manta ray biology and ecology, while discussing threats to manta populations and global conservation efforts.
You will learn how to take identification photos of mantas, how to distinguish males from females and how to interact with them without disturbing their natural behaviour.
The collected data will be cataloged to carry out the study and will be compared to the previously collected data. All the data collected will be uploaded to MantaMatcher.org, an online global database that allows citizen scientists to upload manta ray ID photos and researchers to build regional catalogues that help to add to our knowledge of these incredible species.
We scheduled this trip during the best time of the year to spot manta rays, dolphins and sharks, but don't forget these are wild animals in their natural habitat, so we cannot guarantee sightings.
---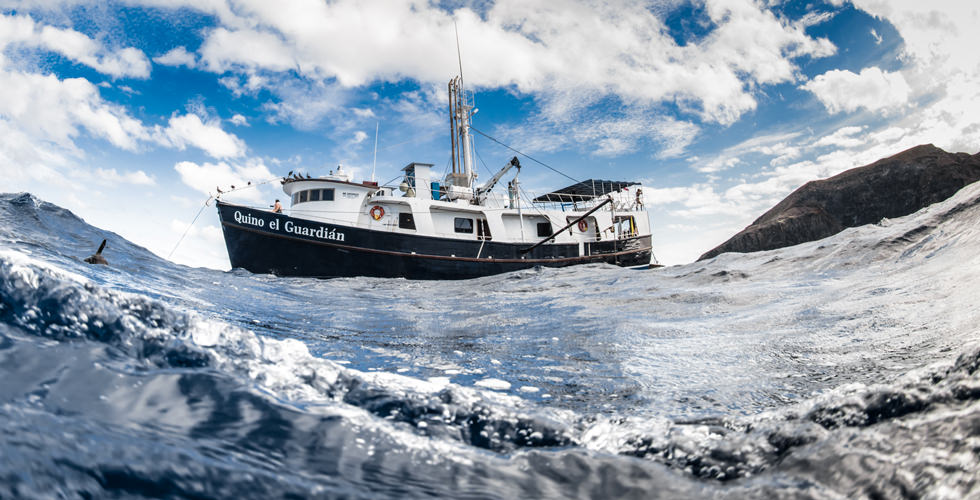 Liveaboard
Quino El Guardian is a 90-foot boat with air conditioning throughout the ship for your comfort. The Quino has 5 cabins (4 with 4 beds and 1 cabin with 2 beds) which can accommodate up to 16 guests. Each cabin has a bunk, a drawer and a bed with a privacy curtain for each person. There are 4 comfortable bathrooms with full-size showers, and each is assigned to a cabin so guests can leave their personal items inside.
The Quino has a galley that comfortably accommodates all the passengers and includes a projector and a screen for presentations. In addition, there is a salon with sofas, a TV and a computer table. There is also a large, shaded sundeck with lawn chairs for relaxing between dives or enjoying the stars at night.
In the back of the boat, you'll find a large dive deck organized with gear storage for all your diving equipment and a spacious camera table. There is a dive platform that gives you access to two inflatable tenders. These will ferry you to the dive sites and back to the boat. All safety equipment required is on the vessel.
---
Dates
2018:
---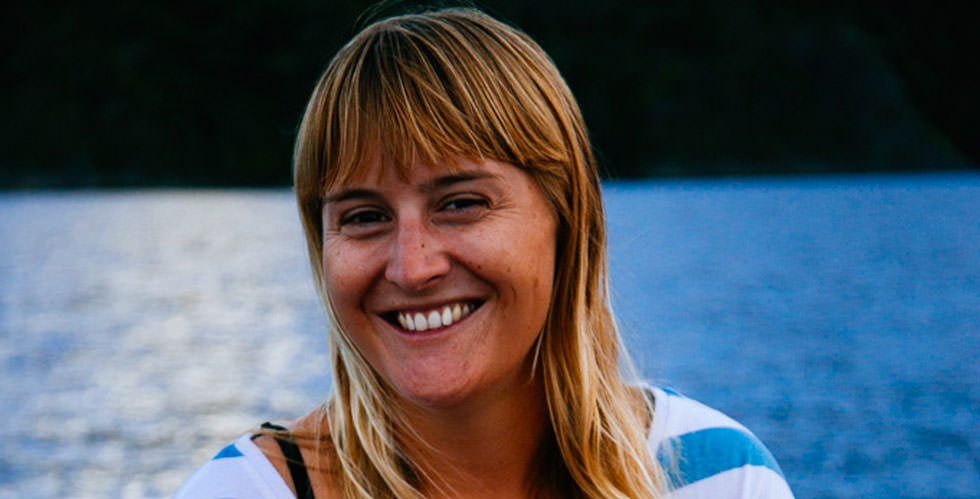 The Trip Leader
Steph Venables
Steph is a marine scientist and manta ray researcher with the Marine Megafauna Foundation (MMF). She is also a PhD candidate at the University of Western Australia, where she graduated in 2011 with a Bachelor of Science. Her postgraduate studies have focused on the impact of tourism on manta ray behavior in Ningaloo Marine Park, Western Australia. This led her to joining MMF in 2014. She has since worked on manta ray populations in Mozambique and Indonesia.
Steph's research focuses on manta ray population genetics. Her research uses genetic analysis to gather vital information on population size, structure and connectivity, which can be used to further understand populations and guide the development of management and conservation strategies. Although her work focuses on both the Mozambique and Raja Ampat Mobula alfredi populations, she is primarily based in Raja Ampat, Indonesia where she co-manages MMF's regional manta ray research project.
---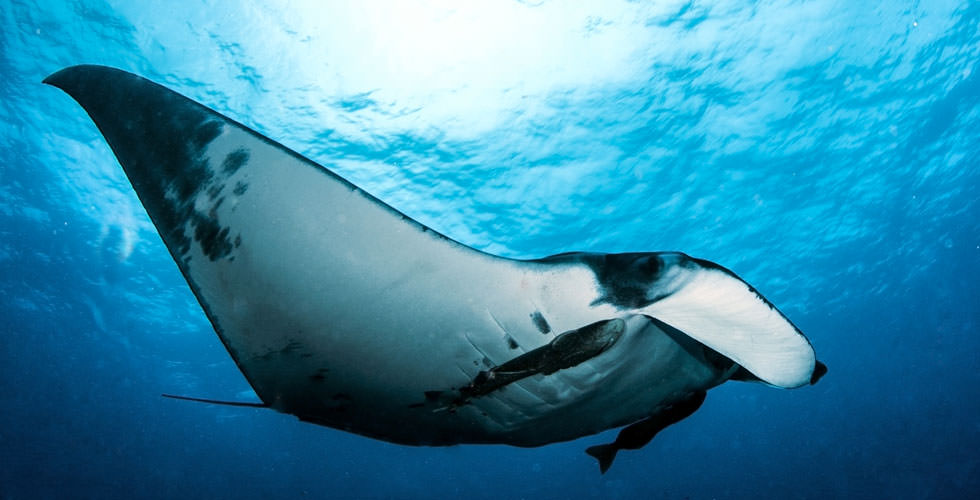 Recommended Equipment
Snorkeling and diving gear
5mm or 7mm wetsuits (the temperature of the water is 22-25°C)
Underwater camera
Polarized sunglasses
---
The Trip Includes
3 fabulous meals per day
Snacks all day
Beverages including soft drinks, juice and water
Complimentary beer and wine
Tanks, weights and weight belts
Free dive insurance from Diviac
---
The Trip Doesn't Include
Fuel surcharge: Quino El Guardian has the right to implement a fuel surcharge on all trips in the event the cost of fuel surpasses 14 pesos a liter. Should this occur, there will be a fuel surcharge to each client of $100. For every additional peso per liter, there will be an additional $40 per passenger increase.
National park fees of USD $28 per person
Hyperbaric chamber fee of USD $15 per person
Nitrox fee of USD $120 per person per week
Donation to Whale Shark México
---
Requirements
Passport
Travel and medical insurance
Diving certificate