Project Shark with Elke Bojanowski in the Maldives
5th September 2017

| Mario Passoni
Don't miss your chance to join a shark adventure in the Maldives. Dr. Elke Bojanowski, founder and director of Red Sea Sharks will guide underwater enthusiasts to the world of these apex predators, collecting important data for their conservation.
This trip will offer you the opportunity to swim in an underwater paradise, inhabited by coral reefs, tropical fish, sea turtles, dolphins and pelagic fish!
Moreover, the purpose of this holiday is to spot and collect info about the most elegant animals on the planet - manta rays.
Diviac Eco Travel has selected this trip in order to concretely help the marine life of the Maldives.
---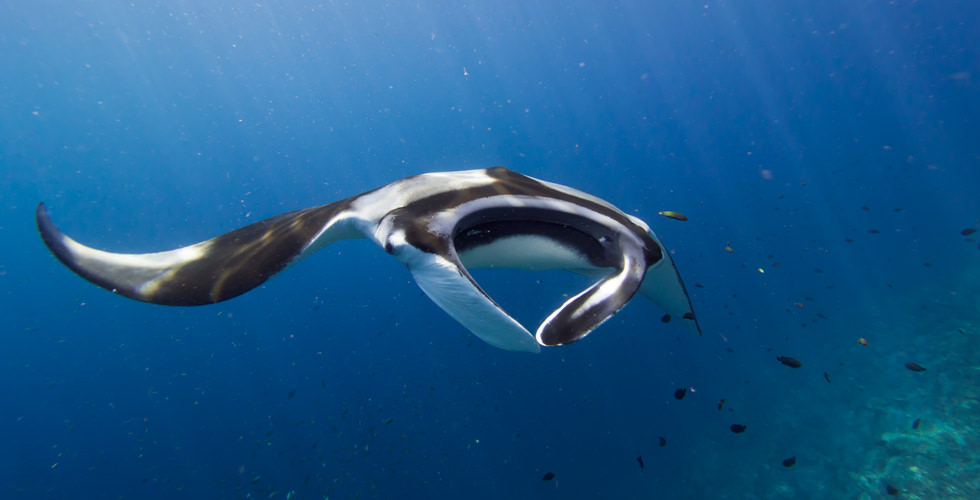 Essential Information
Where: Maldives
When: Various dates throughout 2018
Who: Dr. Elke Bojanowski
Trip Duration: 7 nights
Liveaboard: M/Y Blue Voyager
Target Group: Students, Advanced Divers, Families
Research Activities: Survey on Maldivian Sharks and Manta Rays
Max Number of Guests: 26
Price: Starting at USD $2,450 per person
---
Itinerary
The itinerary and number of dives may vary according to weather conditions and other factors.
Day 1: Transfer to the boat, and check in around 12:30.
Day 2-7: These days will be filled with diving at the best spots in the North Male, South Male, Felidhu, Meemu and South Ari Atoll while looking for sharks, manta rays, pelagic fish and beautiful coral reefs. On the 7th day, 2 dives are scheduled in the morning.
Day 8: Check out after breakfast. Transfers to the airport or other accommodation.
---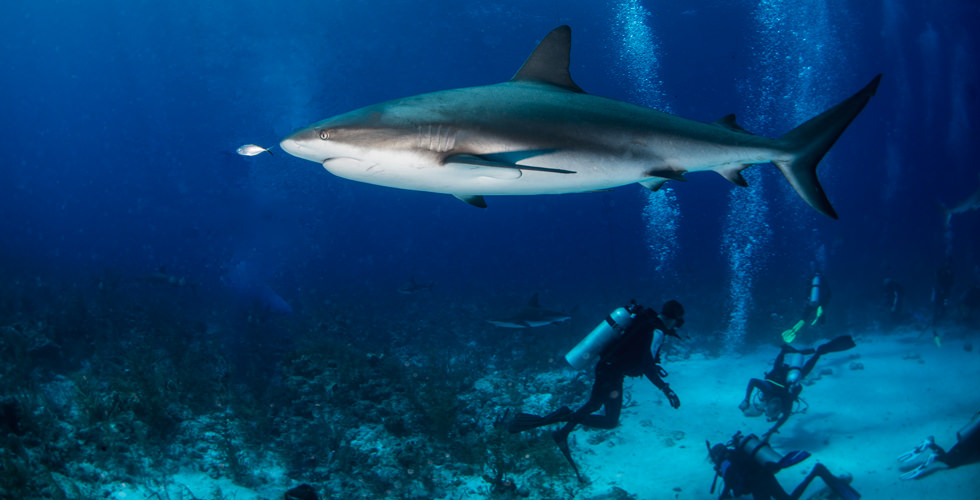 Experience Overview
The Maldives are a tropical paradise in the Indian Ocean. Recently, they have become very important in tourism, especially for divers and snorkelers due to the stunning marine life found around the islands.
The Maldives are still a wonderful destination, but unfortunately global warming, overfishing and plastic pollution are threatening these charming atolls and their marine inhabitants, including the sharks.
On board with you, there will be a shark expert, who will introduce you to the fantastic world of sharks, providing you with information and curiosities about these majestic creatures. This expert will also involve you in an important shark project, which aims to collect data about the shark population and protect these animals.
Up to 19 dives are scheduled, giving you the opportunity to enjoy the local marine life and learn how to identify and behave around sharks. In addition, you'll have the chance to interact with and identify manta rays, which will also help the researchers of the Manta Trust in monitoring that population.
Keep in mind this will be a real holiday for you. You can help as much or as little as you wish! Dive with a purpose and enjoy an unforgettable trip.
It's also important to note that this trip is scheduled to spot sharks and manta rays, but they are wild animals in their natural habitat. For this reason, we cannot guarantee sightings.
---
Why Should We Protect Sharks?
Sharks have existed for hundreds of millions of years and are very important to the entire marine food chain. Watch this video to better understand how important shark survival is for all of us.
---
Red Sea Sharks
Red Sea Sharks is an organization founded by Elke Bojanowski in 2012. The purpose of this organization is to study and protect sharks in the Red Sea as well as provide information and education on sharks and their situation worldwide.
Red Sea Sharks is carrying out a photo identification project for various species of shark, including the oceanic white tip shark, the gray reef shark and the silky shark. This data helps to constantly monitor these populations.
---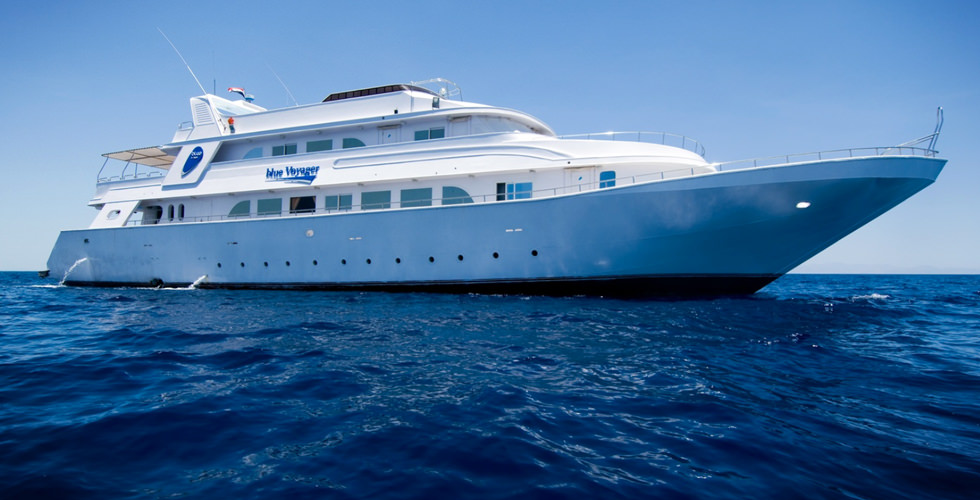 Liveaboard
The M/Y Blue Voyager is a 121-foot (37-meter) yacht that can welcome 26 divers on board. You'll have your choice of 3 roomy double cabins or 10 twin cabins.
Aboard you will find a separate outdoor dining area, a bar and a sky lounge as well as a Jacuzzi. A shaded seating area is located on the middle deck, and there are three different sun decks: one viewing area located at the front of the middle deck, an open air area on the upper deck and an ocean deck at the stern of the boat. All of these areas provide comfortable seating and loungers.
The M/Y Blue Voyager will always be followed by the Blue Shadow, a Maldivian boat (locally called dhoni), which is used to reach the dive sites.
While you are not diving, you will be delighted by a large variety of food, including vegetarian, vegan and gluten-free options, appetizers, mains, desserts and snacks between dives prepared by the chef.
---
2018 Dates
---
Recommended Equipment
Diving equipment
Polarized sunglasses
Underwater camera
---
The Trip Includes
Marine biologist
Biology lectures
Internal transfers
Full board on the vessel (incl. water, tea/coffee + 1 BBQ)
Free diving insurance offered by Diviac
---
The Trip Doesn't Include
International flights
Maldivian Green Tax - USD $6 per night
Rental Equipment if needed
Nitrox
Travel insurance
---
Requirements
Passport
Travel and medical insurance
Diving certificate