Sailing Catamaran Eco Adventure in the Bahamas
30th December 2016

| Mario Passoni
Sign up for an unforgettable trip aboard a sailing catamaran, discovering the Caribbean Sea of the Bahamas among the tropical islands of the Exuma Cays Land and Sea Park.
During this holiday you'll go diving, snorkeling, kayaking or stand-up paddle boarding (SUP). You'll also visit deserted tropical islands and relax while enjoying breathtaking views.
In addition, you'll be accompanied by a marine biologist who will involve you in her project on the local reef. Find out how to outplant pieces of coral to nurseries and how to use the diadema sea urchins to keep clean the reef from algae.
By choosing this trip, you will help the Bahamas National Trust to protect the marine world of the Bahamas in a concrete way.
---
Essential Information
Where: Exuma Cays Land and Sea Park, Bahamas
When: July 29 - August 4, November 4-10 2017
Who: Bahamas National Trust and Perry Institute
Trip Duration: 7 days
Liveaboard: Cat Ppalu Sailboat Catamaran
Research Activities: Coral planting, Diadema recovery project, Reef survey
Max Number of Guests: 12
Price: USD 1,595 plus USD 125 (port fee) per person
---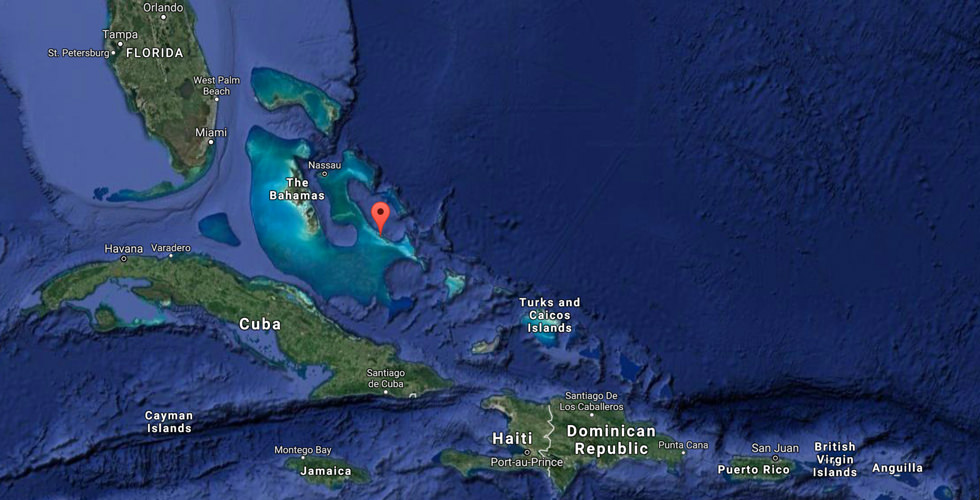 Itinerary
Day 1: Boarding begin at 12:00 pm at the port of Nassau. Check-in is followed by a safety briefing, then lunch. Around 3:00 pm, Cat Ppalu will sail to the Exuma Cays from Nassau. We recommend flights that land no later than 1:00 pm to make the 3:00 pm departure. If it gets too late, the captain may decide to leave early the next day for safety reasons.
Day 2 - 5: On these days, you'll snorkel or dive (including 1 night dive) in the Exumas as requested. There are various activities that you will participate in according to the weather and your groups' desires.
Day 6: Snorkeling or diving depending upon your location in the Exumas. You will return to Nassau at approximately 4 or 5 pm. After dinner, you can enjoy the evening ashore, visiting Nassau and Paradise Island.
Day 7: Continental breakfast. Then check-out and disembark by 9:00 am.
---
Experience Overview
The Bahamas is an archipelagic state made up of more than 700 islands, islets and cays in the Atlantic Ocean. The Exuma Cays represent a chain of over 200 islands in the central Bahamas. The park around which this trip is centered was founded in 1958 in order to protect and maintain this natural environment.
There isn't a defined itinerary, depending on weather and marine life activity captain will tailor the itinerary to get you to the best places this park offers while cruising among uninhabited islands under full sail.
During the program, there are up to 19 dives (including a night dive), but remember that the number of dives can vary depending on the route and the weather. If you are not a certified diver, you can go snorkeling while the other guests are diving.
Sharks are very common in the Bahamas and are seen on most dives. The most common species are caribbean reef sharks and nurse sharks with the occasional lemon, hammerhead or tiger shark.
All you need to do is relax and choose what to do from these activities:
Diving: Diving into the Bahamas is the best way to appreciate the schools of fish and the reef that inhabit these crystalline waters. Parrotfish Reef and Flat Rock Reef are among the best dive spots to visit. But they are appreciable even while snorkeling. If you are not a diver, you can take an open water course during your stay on board.
Snorkeling: This is a very easy activity that can be done by everyone. If you have never tried snorkeling before, the staff will teach you how to do it. You'll have fun while you explore the reefs from the surface. You'll be guided to different places where you can snorkel, like Saddleback Cay (where there is the possibility of sighting stingrays and juvenile fish), Warderick Wells Park Headquarters (rich in schools of grunts, snappers, jackfish and a resident lemon shark), Close Mon Reef (where you can admire trumpet fish, puffers, filefish, angelfish and butterflyfish), Ship's Channel Cay and Shroud Cay (both allow you to snorkel along the mangroves, an unmissable opportunity to observe the marine nurseries of many fish species including gray snapper, barracuda and grunts).
Discovering Islands: Allan's Cay is famous for hosting "Bahamas rock iguanas", which are huge reptiles that were common in the Bahamas but are now nearly extinct.
Kayaking: Cat PPalu has four double ocean kayaks onboard at your disposal. You can use then to visit mangrove creeks, Pirate's Lair (where pirates used to hide 250 years ago) and deserted beaches.
SUP and Windsurfers: At your disposal two boards that you can use for these activities.
Bird Watching: During this cruise, you will be able to spot different kinds of tropical birds, such as terns, Bahamas woodstars, Bananaquits and many more.
Research activities: Follow the marine biologist in her activities and find out more about marine life of The Bahamas.
---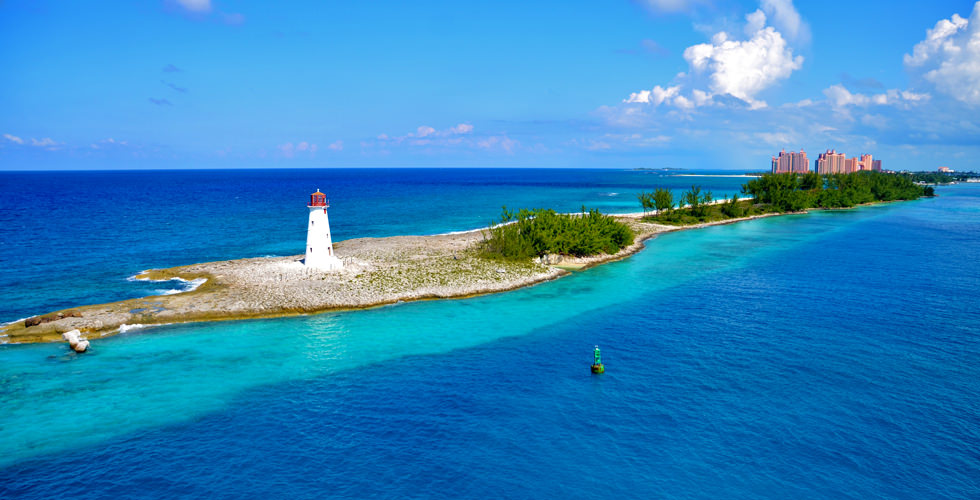 Bahamas National Trust
Bahamas National Trust is a non-governmental organization founded in 1959. It takes care of managing the entire national park system.
The Trust's mission is to conserve and protect the natural resources of the Bahamas through administration and education of present and future generations.
---
Eco Project
The reef is a very important ecosystem for all marine life. The purpose of this project is to help the reef grow healthy and strong.
During this trip, you will take Diadema sea urchins, and you'll place them in strategic locations. These animals feed on the algae covering the coral, helping the corals to remain alive.
Researchers have created a small nursery of corals. You'll have the opportunity to help expand and take care of it.
The marine biologist will decide, based on the current health status of the corals and the nursery, what research activities to carry out.
Finally, you will research the population of sea snails, which feed on corals and thus have a negative impact on the reef. Collecting info about what they eat will help scientists in finding a way to protect the reef.
---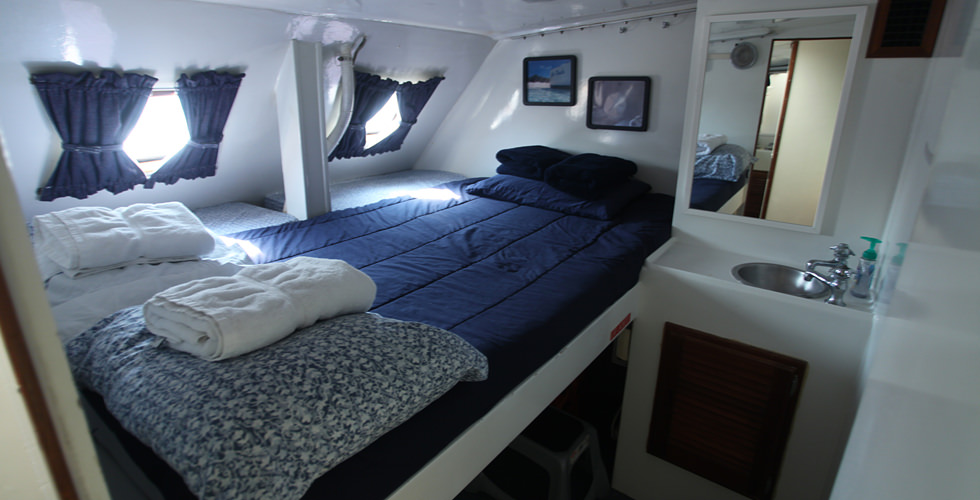 Liveaboard
The sailboat catamaran Ppalu offers all the amenities for a wonderful holiday. Its crew will take care of you and assist you in all of the activities.
You'll have access to an open bar, meals, a large main room for relaxation and watching TV or playing games as well as air conditioning throughout the boat.
Furthermore, you'll enjoy ocean kayaks, stand-up paddleboards (SUPs), windsurfing and fishing gear at your disposal.
There are external showers, and the forward trampoline area offers the opportunity to sunbathe and enjoy the beautiful landscape while cruising.
There are 6 spacious and comfortable cabins that can accommodate up to 12 people:
Cabins 1, 2 and 5: Main deck, featuring a double bed, 2 windows, private vanity and sink.
Cabins 3 and 4: Main deck, each with 2 twin berths, 2 windows, private vanity and sink.
Cabin 6: Lower deck, with a double bed, porthole, private vanity and sink.
---
2017 Dates
---
The Trip Leader: Tanya Kamerman
Tanya graduated from Auburn University in 2004 with a B.S. in Marine Biology. After graduating, she began working as an aquarist at the Seas Aquarium in Epcot at Walt Disney World where she took care of all the animals and systems. She also spent two years on Castaway Cay training and caring for southern stingrays.
Through her at Castaway Cay, she took a large part in elasmobranch conservation, particularly focusing on stingrays. She also participated in a coral reef restoration program working on the reefs surrounding the island. The conservation projects inspired her to further her education at Nova.
Tanya's research focuses on Bahamian coral reef ecosystems and its relationship to the corallivorous snail, Coralliophila abbreviata. She hopes to better understand the predators of C. abbreviata in order to determine if their population can be controlled naturally, which would result in an improvement of the overall health of coral reef ecosystems.
---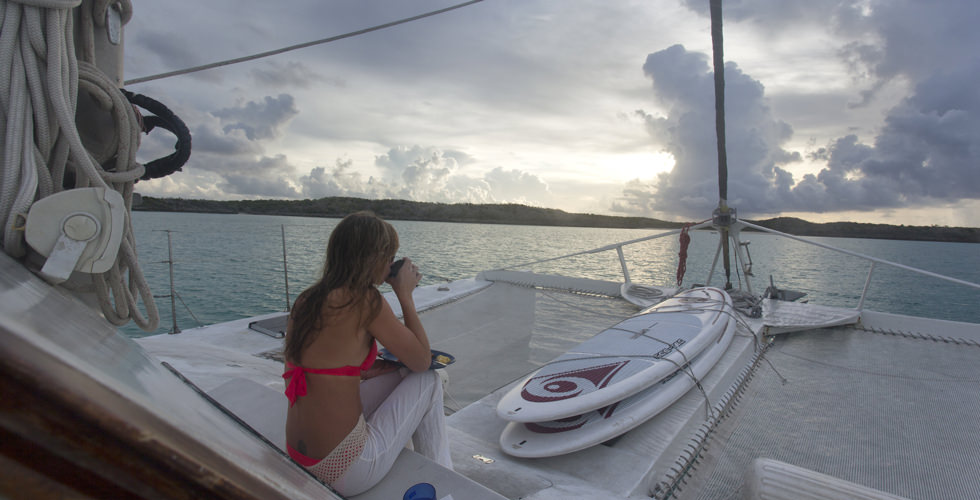 Recommended Equipment
Snorkel gear, dive gear (can be rented)
Dive light (required for night dives)
Island hiking shoes
---
The Trip Includes
Three meals a day as well as snacks and fresh fruits. Fresh fish or lobster is also served, in season, when caught. Most meals served will be a combination of Bahamian and American cuisine. We offer a large selection of drinks, from soft drinks and lemonade to beer, wine and rum.
Tanks, weights and weight belts
Free diving insurance offered by Diviac
---
The Trip Doesn't Include
Visa: All non-USA citizens may be required to use the USA visa-waiver program (ETSA). This is often required to enter the USA. This is still required even for transit through the USA.
Travel costs to get to and from Nassau, Bahamas
Travel insurance
If you don't have your own equipment, Cat Ppalu has BCD, wetsuits, dive lights and regulators with octopus and gauges available for rent. All gear must be rented by prior arrangement. Please find rental rates below:
BC: USD 50.00
Regulator: USD 50.00
Computer: USD 50.00
Light: USD 30.00
Full Wetsuit: USD 35.00
Wetsuit Top: USD 30.00
---
Requirements
Passport
Travel and medical insurance
Latin American Citizens: Most visitors to the Bahamas do not need special vaccinations before entering the country. However, travelers over age one must provide a yellow fever vaccination certificate if you are coming from countries with the risk of infection such as Argentina, Bolivia, Brazil, Colombia, Ecuador, Panama, Paraguay, Peru and Venezuela. You must be vaccinated 10 days before entering The Bahamas.
All children under the age of 15 must be supervised by a parent or guardian at all times.