The Best Liveaboards in Guadalupe
25th March 2017

| Sarah Morlock
Diving in Guadalupe, off the coast of Baja California, is all about Great White Sharks. In fact, this is one of the four best places in the world to dive in with these massive creatures, and probably the most enjoyable of the four due to supreme visibility and warm waters. It's often possible to see up to six Great Whites on a single dive.
All of the diving around Guadalupe Island is open ocean diving. Don't expect to see colorful coral reefs or any major underwater landscapes. Most of the time, you'll be diving in cages (both closed and open on top) over deep waters.
Because Isla Guadalupe is 250 miles (400km) from the Mexican mainland, diving this shark paradise is only possible by liveaboard. It takes about 18 hours to reach the island, so this may not be the trip for you if you suffer from seasickness.
Liveaboards traveling to Guadalupe depart from either San Diego, California in the United States or Ensenada on the northern Baja Peninsula of Mexico. The typical length of liveaboard trips to Guadalupe is 4 to 5 days, although some operators offer longer itineraries.
The best time to dive in Guadalupe is from August to October. Within these months, dozens of Great White Sharks arrive to feed on the elephant seal colonies located on the island's coast. In addition, the sharks are attracted to the colder water in the fall. You'll find an average surface temperature of just 66°F to 70°F (19°C to 22°C). During the other months of the year, liveaboards don't typically travel to Guadalupe.
It's also important to note that both snorkelers and divers alike are welcome on liveaboards in Guadalupe. Many boats offer cages that sit on the surface, allowing snorkelers to utilize a hookah system.
---
Best Luxury Liveaboard: Solmar V
The Solmar V offers some of the best diving with the Great Whites of Guadalupe.
Because diving is completed directly from the swim platform, you'll be able to dive as often as you please on most days. Diving is carried out using reinforced cages on the surface or submerged, and friendly crew members are always available to help you get kitted up.
For all the luxury you will experience under the water, you'll enjoy just as much hospitality topside. Free drinks and plush communal areas are great for relaxing after a day's diving. Each of the 12 well-fitted cabins will make you forget you are on a ship. Although the ship can carry 22 divers, you'll always feel as if you have enough space aboard the Solmar V.
---
Best Mid-Range Liveaboard: MV Horizon
Offering 5-night trips to Guadalupe, the MV Horizon is billed as the original shark boat traveling to Guadalupe Island.
This ship has a long history of travel. She has been diving California and Mexico since 1980, and she set off on her first shark journey in 2000. So you know her crew is experienced and as a vessel, she can handle the sometimes rough seas between the mainland and Guadalupe.
Today, the MV Horizon offers both submersible and surface cages. Everyone with any experience level is welcome onboard. And for those without their own equipment, you can rest assured. The MV Horizon offers free rental equipment.
16 guests are accommodated in 8 cabins and share 2 bathrooms. There's plenty of space to feel comfortable in the common areas, which include an entertainment area and spacious sun deck.
If you'd like to visit Guadalupe and prefer a mix of amenities and price, the MV Horizon is the right choice for you.
---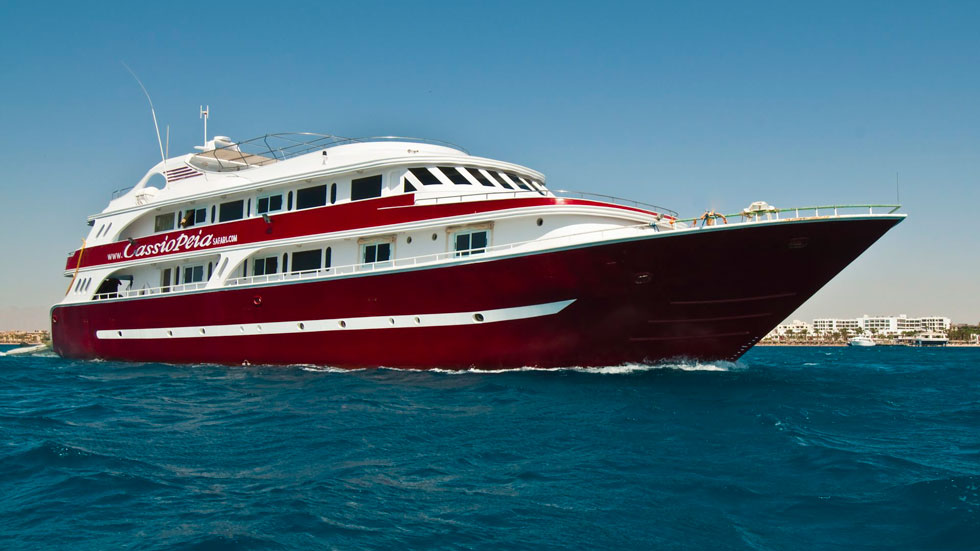 Best Budget Liveaboard: MY Cassiopeia
The MY Cassiopeia, which was recently moved to Mexico, is great value for money.
You'll enjoy a large number of dives each day in one of the surface or submersible cages. On every five-day itinerary, you'll have two and a half days of cage diving. At night, you can chat with the crew about the area and its toothy inhabitants.
Although it is cheaper than many other yachts sailing to Guadalupe, the MY Cassiopeia has plenty of room for its crew and guests.
And if you're worried about the long haul to Guadalupe, rest easy in the knowledge that the the MY Cassiopeia has been refitted to handle the open ocean. All 26 guests can be accommodated in 13 spacious cabins.
For a well-priced liveaboard trip with a few luxurious amenities, the MY Cassiopeia is an excellent choice.
---
The three liveaboards you've read about were hand-picked by our scuba diving experts, but there are a few more boats available. To see the full list of liveaboards in Guadalupe, click the button below.