Top 10 Best Dive Sites in the Galapagos
6th March 2017

| Sandro Lonardi
The Galapagos Islands, a naturalist's dream destination, are found over 600 miles (1000 kilometers) off the west coast of Ecuador. Despite easy access by plane, the Galapagos are a wild wonderland, full of endemic species both above and below the water. Marine iguanas, Galapagos penguins, sea lions and Galapagos sharks along with schooling hammerheads, whale sharks, manta rays and mola mola are the delight of scuba divers.
Dive sites in the Galapagos tend to be volcanic in nature with a few corals scattered here and there. Channels around the islands boast heavy currents which work like pelagic highways. Because the best dive sites in the Galapagos are distant (as is the case of Wolf and Darwin Islands) or spread out, joining a liveaboard is the best way to fully experience the archipelago.
The best time to dive in the Galapagos is any month of the year. There are two distinct seasons. Each boasts a different set of marine life. The warm season, from December to May, is best for schooling hammerheads and most other sharks. These months also feature easier conditions and better visibility. On the other hand, the cold season, from July to December, is best for whale sharks, penguins and mola mola. Just be prepared for temperatures that drop to 60-65°F (16-18°C).
Whether you are planning a liveaboard diving adventure in the Galapagos or plan to take day trips to the best dive sites of the central islands, these 10 dive sites should be on your must-dive list.
---
1. Darwin's Arch
On the far outer reaches of the archipelago, Darwin Island and its famous dive site, Darwin's Arch, are the highlight of any liveaboard tour in the Galapagos. Manta rays, sea turtles, dolphins, eagle rays and the occasional whale shark wow divers with their presence. The real showstopper are the huge number of sharks brought in by the strong current. You're likely see schools of hammerheads, silky sharks, blacktip sharks and Galapagos sharks. All of this at an average depth of just 30 feet (9 meters)!
Recommended Level: Intermediate to Advanced
Featured Creatures: Hammerheads, Galapagos Sharks, Silky Sharks, Blacktip Sharks and Whale Sharks
---
2. Shark Point
Sister to Darwin Island, Wolf Island is also only accessible by liveaboard. There are quite a few world-class dive sites at this remote location, but one stands out as the most popular. Shark Point is where divers go to fulfill their dreams of diving alongside huge whale sharks. These graceful creatures gather in the area from May to November. It's also possible to see large groups of hammerhead sharks and endemic Galapagos sharks at this Wolf Island dive site. Because of limited visibility, strong current and occasional harsh surges, Shark Point is usually limited to experienced divers only.
Recommended Level: Advanced
Featured Creatures: Whale Sharks
---
3. Gordon Rocks
One of the best dive sites in the central islands, Gordon Rocks is the eroded crater of a submerged cone on the northeast side of Santa Cruz Island. While any number of big marine animals can be found in the area, most people dive Gordon Rocks for one thing: hammerheads. Strong currents bring dozens of these predators into a relatively confined area, making this a great place to get up close and personal with the sharks. Locally, Gordon Rocks is also referred to as the washing machine due to its currents and structure, so be careful when diving in the area.
Recommended Level: Intermediate to Advanced
Featured Creatures: Hammerhead Sharks
---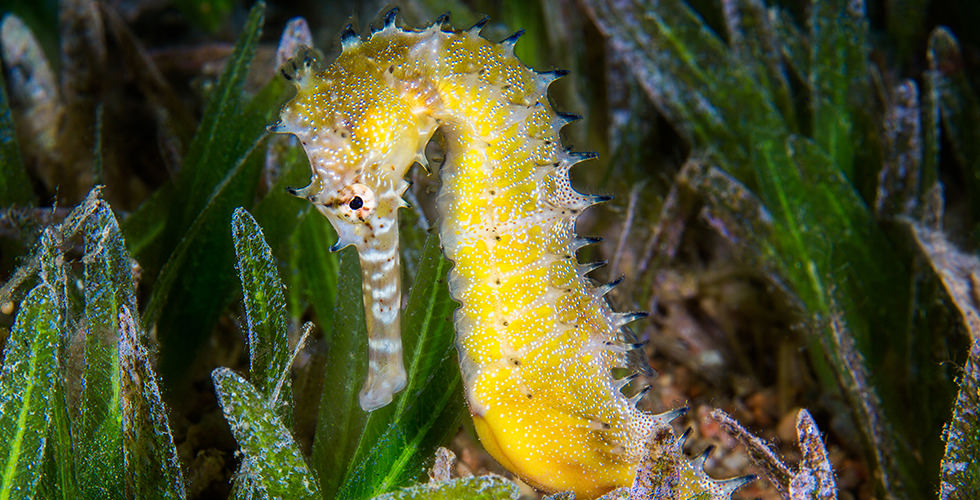 4. Camaño Islet
Situated off the coast of Santa Cruz Island, Camaño Islet is a great option for beginners who also want to enjoy the underwater wonders of the Galapagos. There's groupers, batfish, sea lions and seahorses to be seen. Lucky divers might even spot Galapagos marine iguana searching for food under the surface. The dive profile at Camaño Islet typically maxes out at 33-50 feet (10-15 meters) with great visibility, making it a nice and easy dive.
Recommended Level: Beginner
Featured Creatures: Seahorses, Sea Lions, Batfish and Grouper
---
5. Punta Vicente Roca
Punta Vicente Roca is a sloping wall with several small caves off of Isabela Island. This site reaches a max depth of 88 feet (27 meters) with better conditions found in the cold water below 40 feet (12 meters). While the wall is covered in invertebrates ranging from frogfish to seahorses, the real attraction are the sunfish. Mola mola are often seen along the outside of the wall where these huge fish come to be cleaned. On your safety stop, look out for diving penguins and playful sea lions. Every minute is an adventure at Punta Vicente Roca.
Recommended Level: Intermediate
Featured Creatures: Mola Mola
---
6. North Seymour Ocean Side
There's so much to see at North Seymour, you might want to stick around for more than one dive. The gradual rocky slope that extends from Seymour Island's northeastern shore provides habitat yellowtail grunts, bluestriped snapper and salemas. You might also spot groups of eagle rays, marble rays, manta rays, stingrays, jacks, hammerheads and, on a good dive, marlins. Don't forget to point your camera up every once in awhile. Because of the number of fish found here, you can often observe blue-footed boobies diving in and swimming down to catch a meal.
Recommended Level: Beginner
Featured Creatures: Eagle Rays and Blue-Footed Boobies
---
7. Cousins Rock
Perhaps the best intermediate dive in the Galapagos, Cousins Rock is located off the northeast coast of Santiago Island. The dive site offers terraced steps that drop down to a sandy bottom at 130 feet (40 meters). The steps are covered in black corals, which make an excellent habitat for the Pacific Seahorse. Under the overhangs created by the "steps," white-tipped reef sharks, sea turtles and moray eels hang out. Schools of barracuda curiously watch the glint of the scuba tanks, and manta rays and hammerheads are occasionally spotted in the blue. Overall, Cousins Rock is one of the most consistent dive sites in the Galapagos.
Recommended Level: Intermediate
Featured Creatures: Pacific Seahorse, White-Tipped Reef Sharks and Sea Turtles
---
8. Roca Redonda
Famous for its streams of natural gas bubbles known as fumaroles, Roca Redonda is the best site in the Galapagos for experiencing the archipelago's volcanic nature. After a challenging entry full of heavy surge, divers pull themselves along the rocks to a sandy patch where the hot bubbles are released from the earth below. Colorful nudibranchs seemingly love the environment as well. On your way up, save some time for the Galapagos sharks. At Roca Redonda, you'll likely be surrounded by several of these menacing-looking creatures during your safety stop.
Recommended Level: Advanced
Featured Creatures: Nudibranchs and Galapagos Sharks
---
9. Bartholomew Point
Combining amazing rock formations with some of the best marine species in the area, Bartholomew Point should be on any list of the best dive sites in the Galapagos Islands. Bait balls are sometimes seen in the area. These attract Galapagos penguins (the only penguin found north of the Equator), sea lions, pelagic fish, white-tipped reef sharks and a variety of rays. When you're not in the middle of a bait ball, you might also see sea turtles, a variety of reef fish, manta rays and curious hammerheads in the blue.
Recommended Level: Intermediate to Advanced
Featured Creatures: Galapagos Penguins and White-Tipped Reef Sharks
---
10. Kicker Rock
Suitable to both scuba divers and snorkelers, Kicker Rock off the coast of San Cristobal Island was named for its resemblance to a shoe. Diving down between the two rocks, you'll see sea turtles, large rays, wrasse, surgeonfish, angelfish, Galapagos sharks and even hammerheads in deeper waters. Marine iguanas also hunt in the area, so keep your eyes open for one diving past. Most land-based operations combine snorkeling or diving at Kicker Rock with a visit to the playful sea lion colony at Lobos Island, creating a wonderful day of underwater adventures!
Recommended Level: Beginner
Featured Creatures: Marine Iguanas and Sea Lions
---
With so many epic dive sites, we're not sure how any diver can resist the temptation of the Galapagos. Have you been diving in the Galapagos? If so, we'd love to hear about your favorite dive sites.