Whale Shark Diving: The 10 Best Dive Sites in the world
11th October 2016

| Sandro Lonardi
This article is part of our "top 10" series. Click here to see the best dive sites in the world and explore the other articles in the collection.
As the largest fish in the sea, it's easy to understand why whale sharks are sought after by scuba divers. These majestic and graceful creatures have an ability to hypnotize all who meet them underwater.
Like most super-sized marine life, the whale shark faces unprecedented environmental pressures. The IUCN lists the whale shark as an endangered species. By scuba diving or snorkeling with whale sharks, you can raise awareness for these amazing creatures. Just be sure to travel with a reputable and eco friendly operator during your excursion.
If you're ready to dive in with the largest shark in the world, be sure to consider these top 10 dive sites for observing whale sharks.
---
Your bucket list
Select where you dived already
You dived
1

out of

10


of the best whale shark dive sites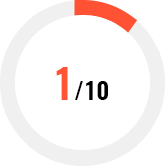 Congratulations, you've been to 1 out of 10 of the best whale shark dive sites in the world. Share it with your friends and let's see how you compare!
1. Kwatisore Bay - Cenderawasih Bay, Indonesia
Cenderawasih Bay has recently become famous for its whale sharks. The individuals in this part of Indonesia display an interesting feeding pattern in which they suck small fish from the bottom of fishermen's nets. In addition, the density of whale sharks in the area is outstanding. The majority of encounters occur in Kwatisore Bay, near the town of Nabire, and the best time to dive is in the early morning. The whale sharks found in Cenderawasih Bay are always present, but you'll find the majority of liveaboards travel to the area from June to October when the weather in Raja Ampat is unfavorable.
Dive Type: Protected Bay
When to Go: June to October
---
2. Darwin's Arch - Galapagos Islands, Ecuador
Reachable only by liveaboard, Darwin Island is home to one dive site, Darwin Arch. Megafauna lovers delight in this dive, but whale shark lovers will be especially happy with the frequent sightings. As an added bonus, whale shark season in the Galapagos also offers encounters with humpback whales, pilot whales, reef sharks and the resident hammerheads,
Dive Type: Wall / Drift
When to Go: June to December
---
3. Simon's Town - Tofo Beach, Mozambique
Whale sharks will often go where the food is, and just off the coast of Tofo Beach, the food is plentiful. With year-round plankton available, this off-the-beaten-path location is home to Africa's largest concentration of whale sharks. There are at least three dive sites within Whale Shark Alley, namely Chamber of Secrets, Simon's Town and Marble Arch. Any of the three offer a good chance to see a whale shark, but the safety stop area of Simon's Town always holds the best probability of a sighting.
Dive Type: Reef
When to Go: November to February
---
4. Sun Island - South Ari Atoll, the Maldives
Whale shark sightings are possible all year in the Maldives, but for the best conditions both above and below the water, you'll want to travel between December and May and during the week building up to the full moon. Interestingly the majority of the whale sharks in the Maldives have been found to be between 4 and 8 metres, comparatively small for the species. It is believed that the Maldives provides a safe ground with a consistent food source for these younger sharks. At Sun Island, the southern shore boasts a shallow plateau where whale sharks can be easily spotted. Both snorkelers and scuba divers of all levels can get in on the action.
Dive Type: Shallow Reef
When to Go: December to May
---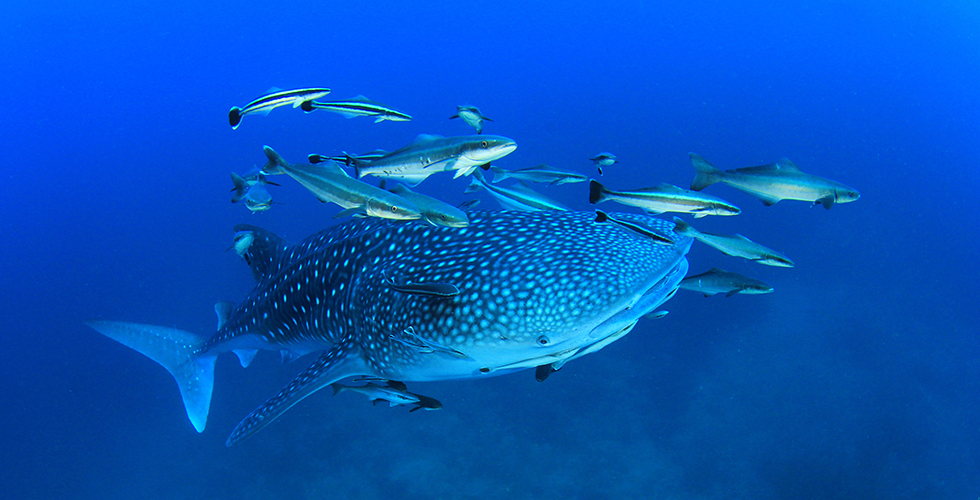 5. Mandu Wall - Ningaloo Reef, Australia
As a UNESCO World Heritage site, Ningaloo reef is home to many hundreds of fish species, including the largest, the whale shark. This easily accessible region is one of the world's most popular places to encounter these huge creatures, and many of the local operators even give a guarantee to see them! Most tours are accompanied by a spotter plane to make finding the whale sharks a breeze. While scuba diving with the sharks is possible, most of the tours are snorkel-only.
Dive Type: Reef to Open Ocean
When to Go: March to June
---
6. Kilindini Harbour - Mafia Island, Tanzania
Still a relatively unknown destination, Mafia Island is Tanzania's top spot for whale shark spotting. During the season, encounters with several individuals per trip is the norm, and small groups of sharks are also often seen during peak periods. The majority of whale shark excursions occur to the west side of the island and are snorkeling only. However, it's not prohibited to scuba dive outside of the Marine Park on the island. So put your tank on and dive in; you never know what you might run into!
Dive Type: Channel / Snorkel
When to Go: October to March
---
7. Donsol Bay - South Luzon, Philippines
A small village in the south of Luzon island, Donsol is a fantastic whale shark destination. Here, whale sharks come closer to the bay in search of the nearby plankton. Unlike whale shark encounters in Cebu, these sharks are not baited and can be encountered in a comparatively natural environment. Keep in mind, the authorities of Donsol have limited whale shark encounters to snorkeling, but scuba divers shouldn't miss the opportunity to discover sites like Manta Bowl and others around Ticao Island where the probability of seeing a whale shark underwater is still very high.
Dive Type: Snorkel
When to Go: December – May (Best time is February to April)
---
8. Gladden Spit - Placencia, Belize
A few miles offshore of Placencia in southern Belize lies one of the most predictable whale shark aggregations. Attracted by the mass spawning of Mutton and Cuberra snappers, whale sharks arrive en masse to take advantage of this biological buffet. The best chance of spotting them is just before and just after the full moon.
Dive Type: Open Ocean
When to Go: March to June
---
9. Afuera - Isla Holbox, Mexico
In the waters just off the Yucatan Peninsula lies one of the world's top and most consistent spots for whale shark encounters. The stretch of water between Isla Holbox and Isla Mujeres nearly guarantees a sighting of at least one whale shark, but aggregations have reportedly numbered into the hundreds! During the whale shark season, it is also possible to see manta rays. Do remember that Mexico offers highly reputable tours and has banned scuba in the whale shark area. Therefore, you'll need to snorkel with these graceful giants.
Dive Type: Snorkel
When to Go: July to August
---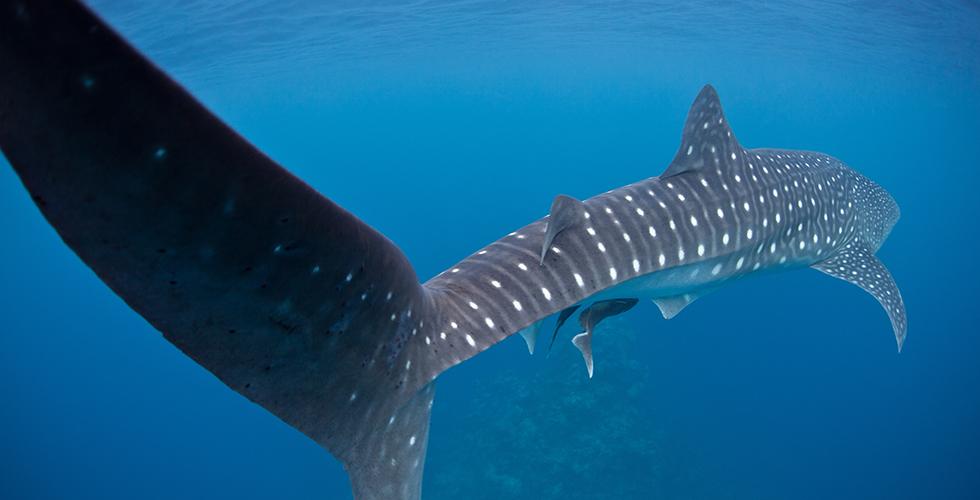 10. Utila Open Water - Utila, Honduras
Often called the 'The Whale Shark Capital of the Caribbean,' divemasters in Utila claim spotting whale sharks is also possible from the shore. According the the locals, water boiling with jumping tuna can often indicate the presence of a passing shark. The northern coast is most successful at providing encounters, particularly at the site known as Utila Open Water. Here a large bank leads into the open blue.
Dive Type: Shallow Bank to Open Ocean
When to Go: Year-round (Best times are March to April and August to September)
---
Your bucket list
Select where you dived already
Have you dived with whale sharks? If so, we'd love to hear about your experience in the comments below!